Alicia Gibson, Jennifer Levonian, Bruce M. Sherman
January 6–February 4, 2017

Adams and Ollman is pleased to announce an exhibition with Alicia Gibson, Jennifer Levonian and Bruce Sherman opening with a reception on January 6 and on view through February 4. The exhibition will include animation, painting, sculpture and works on paper. Together, these three contemporary artists scrutinize the perverse and mundane, the surface and substance of daily life. With critical acumen, each develops a highly personal and surrealist narrative with moments of drama, humor, pathos and malaise.

Painstakingly crafted from hundreds of individual paintings, Jennifer Levonian's stop-motion animations often feature a female protagonist trying to break free from social rituals and clichés. In her latest work, Xylophone, we follow the path of a sleep-deprived pregnant woman, ambivalent to the routines of middle class life, who impulsively steals a goat from a petting zoo. Chaos and freedom ensue in this surrealist narrative told from a distinctly feminine perspective.

The diaristic paintings of Alicia Gibson bring the details and nuances of everyday life to the surface in a riotous conversation of words, images, textures and colors. These emotional and complex paintings, whose subject matter is sourced from the artist's personal experiences, are intimate and vulnerable, yet simultaneously defiant and exuberant. In the exhibition at Adams and Ollman will be a group of recent works by the artist, many of which prominently feature text such as "Got in this game on some rambling shit", a humorous and self-deprecating appropriation of lyrics from the musician Lil' Kim.

Teasing out a surreal thread that runs through the exhibition, Bruce Sherman explores anthropomorphic motifs and subconscious narratives in his ceramic sculptures. Implying both utility and decoration, Sherman's vases and pots are created from absurd configurations of body parts with embellished lips, eyes, and wagging tongues. The resulting anthropomorphic vessels become studies in surface and vanity, as well as character and humor.

Alicia Gibson (b. 1980, New York) lives and works in Brooklyn, NY. She received her BA at Boston College (2002) and her MFA from Hunter College (2009). She has most recently exhibited at Derek Eller Gallery, CANADA, Regina Rex, Rachel Uffner, Lyles and King, all in New York, NY; Venus LA, Los Angeles, CA; and David Petersen Gallery, Minneapolis, MN.

Jennifer Levonian ( b. 1977, West Virginia ) lives and works in Philadelphia, PA. Her work has been exhibited at venues including Los Angeles Contemporary Exhibits, CA; National Portrait Gallery, Washington, DC; the Wexner Center for the Arts, Columbus, OH; Santa Fe Art Institute, NM; Sarah Lawrence College and Exit Art, both in New York, NY; the Philadelphia Museum of Art, the Pennsylvania Academy of the Fine Arts, and Fleisher/Ollman, all in Philadelphia, PA; and Bryn Mawr College, Bryn Mawr, PA; among others. Levonian has been a resident at Bemis Center for Contemporary Arts, Omaha, NE; Atlantic Center for the Arts, New Smyrna Beach, FL; Skowhegan School of Painting and Sculpture, Skowhegan, ME; and the Millay Colony for the Arts, Austerlitz, NY. She received her BA from The College of William & Mary and her MFA from the Rhode Island School of Design. In 2009, she was awarded a Pew Fellowship in the Arts.

Bruce Sherman lives and works in New York City. He has had a solo exhibition at White Columns, New York and has been included in group presentations at South Willard, Los Angeles, CA; Brennan & Griffin, Eli Ping Frances Perkins and Front Desk Apparatus, all in New York, NY; Gavlak Gallery, Palm Beach, FL; and Museo Regional Michoacano, Mexico. Sherman has upcoming solo exhibitions at Nicelle Beauchene, New York, NY and Kaufmann Repetto, Milan, Italy.

installation view: Alicia Gibson, Jennifer Levonian, Bruce M. Sherman
installation view: Alicia Gibson, Jennifer Levonian, Bruce M. Sherman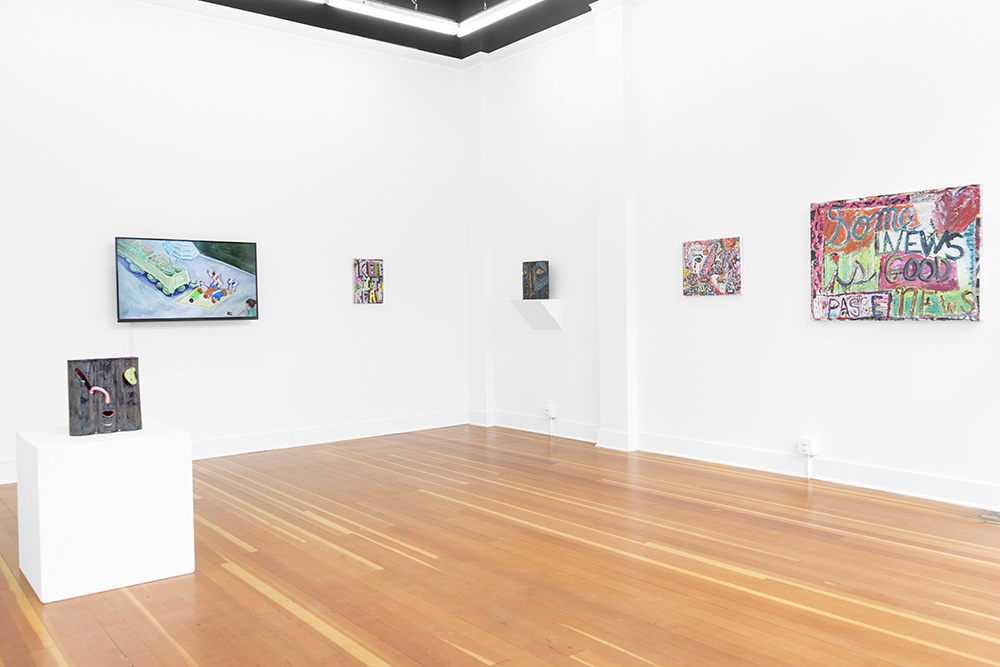 installation view: Alicia Gibson, Jennifer Levonian, Bruce M. Sherman
installation view: Alicia Gibson, Jennifer Levonian, Bruce M. Sherman
installation view: Alicia Gibson, Jennifer Levonian, Bruce M. Sherman
installation view: Alicia Gibson, Jennifer Levonian, Bruce M. Sherman
installation view: Alicia Gibson, Jennifer Levonian, Bruce M. Sherman
installation view: Alicia Gibson, Jennifer Levonian, Bruce M. Sherman
installation view: Alicia Gibson, Jennifer Levonian, Bruce M. Sherman
installation view: Alicia Gibson, Jennifer Levonian, Bruce M. Sherman
installation view: Alicia Gibson, Jennifer Levonian, Bruce M. Sherman
installation view: Alicia Gibson, Jennifer Levonian, Bruce M. Sherman
installation view: Alicia Gibson, Jennifer Levonian, Bruce M. Sherman
Alicia Gibson
Got Into This Game On Some Rambling Shit
, 2016
oil, burlap and Rit dye on canvas
30 x 40 inches
AG2016_01
Alicia Gibson
Some News is Good News
, 2016
oil on canvas
30 x 40 inches
AG2016_02
Alicia Gibson
F-
, 2014
oil on panel
12 x 16 inches
AG2016_04
Alicia Gibson
Keep It Real
, 2014
oil on canvas
16 x 12 inches
AG2016_05
Jennifer Levonian
Xylophone
, 2016
animation, edition of 5
TRT: 8:47
Music: Corey Marc Fogel
JLev 213.1
Jennifer Levonian
Salad Bar
, 2016
watercolor on paper
4 3/4 x 7 1/2 inches
JLev 222
Jennifer Levonian
Vending Machine
, 2016
watercolor on paper
7 1/4 x 4 3/4 inches
JLev 224
Jennifer Levonian
Pet Costumes
, 2016
watercolor on paper
7 x 9 inches
JLev 226
Jennifer Levonian
Gift Shop
, 2016
watercolor on paper
9 x 7 inches
JLev 227
Jennifer Levonian
Skeleton Aisle at Target
, 2016
watercolor on paper
7 x 9 inches
JLev 228
Jennifer Levonian
Stir Fry Kits
, 2016
watercolor on paper
7 x 9 inches
JLev 229
Bruce Sherman
Untitled
, 2015
glazed ceramic
13 x 11 x 4 inches
BSherman 018
Bruce Sherman
Untitled
, 2015
glazed ceramic
13 x 11 x 7 inches
BSherman 019
Bruce Sherman
Untitled
, 2015
glazed ceramic
13 x 11 x 3 inches
BSherman 020