Eugene Von Bruenchenhein, Felipe Jesus Consalvos, Paul Lee
October 4–November 9, 2013

Adams and Ollman is pleased to present an exhibition of photographs by Eugene Von Bruenchenhein, along with collages by Felipe Jesus Consalvos and sculptural works by Paul Lee, on view from October 4–November 9, 2013. The exhibition at Adams and Ollman will be held in conjunction with a solo presentation of works by Eugene Von Bruenchenhein at Fleisher/Ollman in Philadelphia (October 10–December 7, 2013).

A baker by trade, Eugene Von Bruenchenhein created his entire body of work from his home in Milwaukee. Working in various media, he was remarkably prolific, and drew on an idiosyncratic range of interests, from non-Western art and architecture to girly magazine archetypes, theories of cosmic genesis, and current events. On view at Fleisher/Ollman will be a broad array of Von Bruenchenhein's works, including signature ceramics, a selection of paintings of imaginary architecture, and rarely seen 35mm color slides featuring his wife and muse Marie. Adams and Ollman will present select photographs by Von Bruenchenhein, with Marie as their subject. Appearing in a variety of semi-erotic and glamorous poses, she is both adored and objectified.

Alongside Von Bruenchenhein's photographs at Adams and Ollman will be collages made by the self-taught Cuban-American artist, Felipe Jesus Consalvos. Consalvos was a cigar roller and incorporated tools of his trade–cigar box liners and wrappers–into each collage, along with all manner of appropriated materials including newspaper clippings, magazine advertisements and vintage photographs. Each work in the exhibition features satirical portraits of George Washington, whose face is collaged from one dollar bills. The works are comic, irreverent and address the very pressing issues of the 20th century, including questions of gender, race, American foreign policy, and popular culture.

Additionally, new sculptures by Paul Lee will be on view. These elegant assemblages present reflections on the body, intimacy and memory. Lee's use of found or discarded items, raw and everyday, simultaneously grapple with abstracting desire and contemplating the language possessed by objects.

installation view: Eugene Von Bruenchenhein, Felipe Jesus Consalvos, Paul Lee
installation view: Eugene Von Bruenchenhein, Felipe Jesus Consalvos, Paul Lee
installation view: Eugene Von Bruenchenhein, Felipe Jesus Consalvos, Paul Lee
installation view: Eugene Von Bruenchenhein, Felipe Jesus Consalvos, Paul Lee
installation view: Eugene Von Bruenchenhein, Felipe Jesus Consalvos, Paul Lee
installation view: Eugene Von Bruenchenhein, Felipe Jesus Consalvos, Paul Lee
installation view: Eugene Von Bruenchenhein, Felipe Jesus Consalvos, Paul Lee
installation view: Eugene Von Bruenchenhein, Felipe Jesus Consalvos, Paul Lee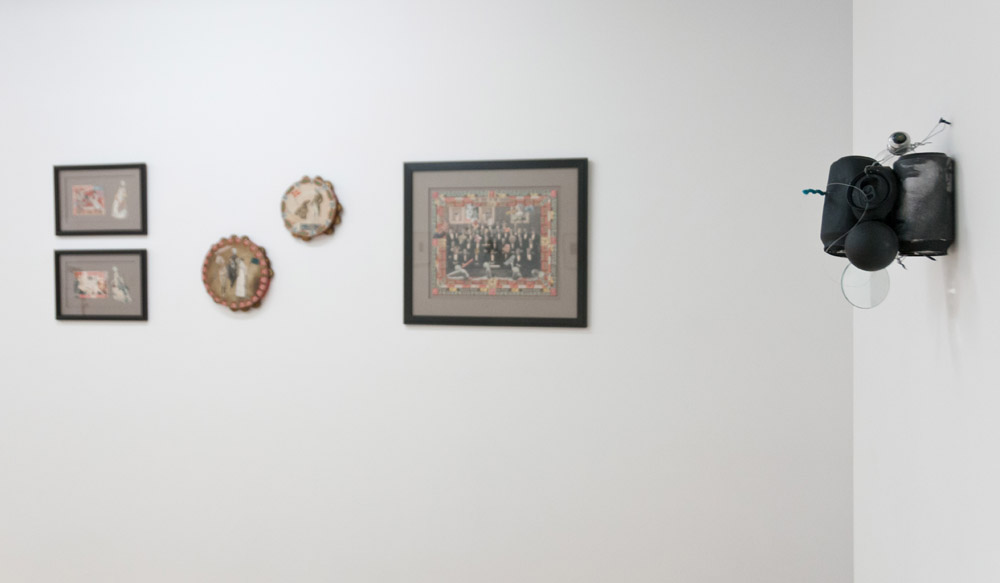 installation view: Eugene Von Bruenchenhein, Felipe Jesus Consalvos, Paul Lee
installation view: Eugene Von Bruenchenhein, Felipe Jesus Consalvos, Paul Lee
installation view: Eugene Von Bruenchenhein, Felipe Jesus Consalvos, Paul Lee
Paul Lee
Untitled
(can sculpture), 2013
Spray paint, light bulbs, coal, wire, soda cans, magnifying glass, printed image, monofilament, found beach rope
10 x 6 x 7 inches
PL-13-024
Eugene Von Bruenchenhein
Untitled
(Marie nude with pearls, arm behind head, looks to viewer), c. 1940s
gelatin sliver print
10 x 8 inches
EVB424
Felipe Jesus Consalvos
Notas de Sociedad
, c. 1920-50
mixed media collage
10 3/4 x 8 inches
FJC612
Felipe Jesus Consalvos
Bust Developed
, c. 1920-50
mixed media collage
3 3/4 x 5 3/4 inches
FJC386
Paul Lee
Untitled
(can sculpture), 2013
Spray paint, light bulbs, coal, wire, soda cans, magnifying glass, printed image, monofilament, washcloth, ink, acrylic paint
9 1/2 x 6 1/2 x 6 1/2 inches
PL-13-025
Felipe Jesus Consalvos
Mysterious Question-Answer
, c. 1920-50
mixed media collage on tambourine
10 inches in diameter
FJC476
Felipe Jesus Consalvos
Face Glove / Toilet Mask
, c. 1920-50
mixed media collage on photograph
7 1/4 x 9 inches
FJC284
Felipe Jesus Consalvos
Big Night at the Canteen
, c. 1920-50
mixed media collage
13 3/4 x 16 3/4 inches
FJC591