Joanna Bloom: Exaggerated Stories
January 4–February 2, 2019

Adams and Ollman is pleased to present a solo exhibition of new works by Joanna Bloom. For this show, the artist's first at the gallery, Bloom elaborates upon her experiments with the ritual forms of the trophy and the bowl. Bloom's ceramic sculptures reference numerous sources—the rich history of self-taught art, material culture, family relationships, ceremonial objects, and the landscape of the Pacific Northwest, where the artist lives and works.

Initially borne of explorations in collage and clay, Bloom has reimagined the trophy form—traditionally a symbol of victory and a marker of elite status—as a site embedded with intensely personal questions about achievement and recognition. In the group of works on view at Adams and Ollman, Bloom continues these investigations as she highlights the intersections of acknowledgment and invisibility, success and failure, internal dialogue and public perception. The comforts of repetition—found both in the sculptures' recurrent forms and textures—and the domestic associations of floral and shell-like motifs are subverted by imperfections and irregularities. Petal-shaped crowns teeter uncertainly upon towers of organic bulges, collars marked with uneven, hand-drawn lines, and resolute but misshapen pedestals. Others wear loosely and lovingly shaped floral discs upon the soft valleys and precarious sags of their bodies, as though they are at odds with the attention drawn by their decoration.

At the center of the gallery, Bloom's monolithic, oval-shaped bowls recline together, their centers dusted with thin layers of white or gray glaze. Bloom pushes the practical scale of the everyday bowl into monumental territory. Pillowy ruffles and swirls fold and crimp along the edges of these vessels; the soft, airy connotations of feminine details present an absurd opposition to the weight and exaggerated scale of the vessels. The bowl, in ritual, a con tainer of spiritual and material nourishment presented as an act of devotion, becomes instead a conflicted offering, at once a generous source of life and an onerous, oversized burden.

Bloom holds a MA in Education from the Teachers College, Columbia University, New York, NY, and a BA from Connecticut College, New London, CT. Her work has been exhibited at the San Diego Art Institute, San Diego, CA; Grants Pass Museum, Grants Pass, OR; Kellogg University Art Gallery, Cal Poly, Pomona, CA; Hoffman Gallery, Oregon College of Art and Craft, Portland, OR; and the New Orleans Center for Contemporary Art, New Orleans, LA, among others. Bloom's work is included in the collections of the Portland Art Museum and The Center for Contemporary Art and Culture, Pacific Northwest College of Art, both in Portland, OR. In 2012, Bloom co-founded Ash Street Project, a clay-focused mentorship program, gallery, and studio in Portland, OR, for emerging artists. She lives and works in Portland, OR.



installation view:
Exaggerated Stories
installation view:
Exaggerated Stories
installation view:
Exaggerated Stories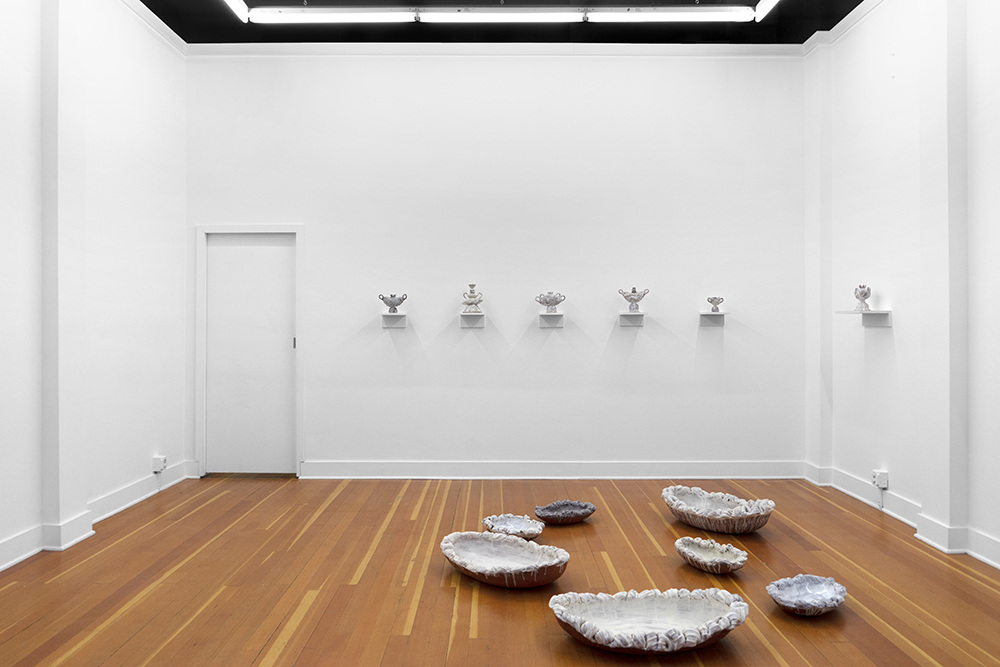 installation view:
Exaggerated Stories
installation view:
Exaggerated Stories
installation view:
Exaggerated Stories
installation view:
Exaggerated Stories
installation view:
Exaggerated Stories
installation view:
Exaggerated Stories
installation view:
Exaggerated Stories
Joanna Bloom
Untitled (Trophy)
, 2018
ceramic with low fire glazes and underglazes
5 1/2 x 5 1/2 x 2 1/2 inches
JBloom_201826
Joanna Bloom
Untitled (Trophy)
, 2018
ceramic with low fire glazes and underglazes
8 1/2 x 6 1/2 x 4 1/2 inches
JBloom_201843
Joanna Bloom
Untitled (Trophy)
, 2018
ceramic with low fire glazes and underglazes
6 1/4 x 9 x 3 inches
JBloom_201833
Joanna Bloom
Untitled (Trophy)
, 2018
ceramic with low fire glazes and underglazes
9 1/2 x 7 1/4 x 7 inches
JBloom_201844
Joanna Bloom
Untitled (Trophy)
, 2018
ceramic with low fire glazes and underglazes
6 3/4 x 9 3/4 x 4 inches
JBloom_201834
Joanna Bloom
Untitled (Trophy)
, 2018
ceramic with low fire glazes and underglazes
8 x 10 x 3 1/2 inches
JBloom_201836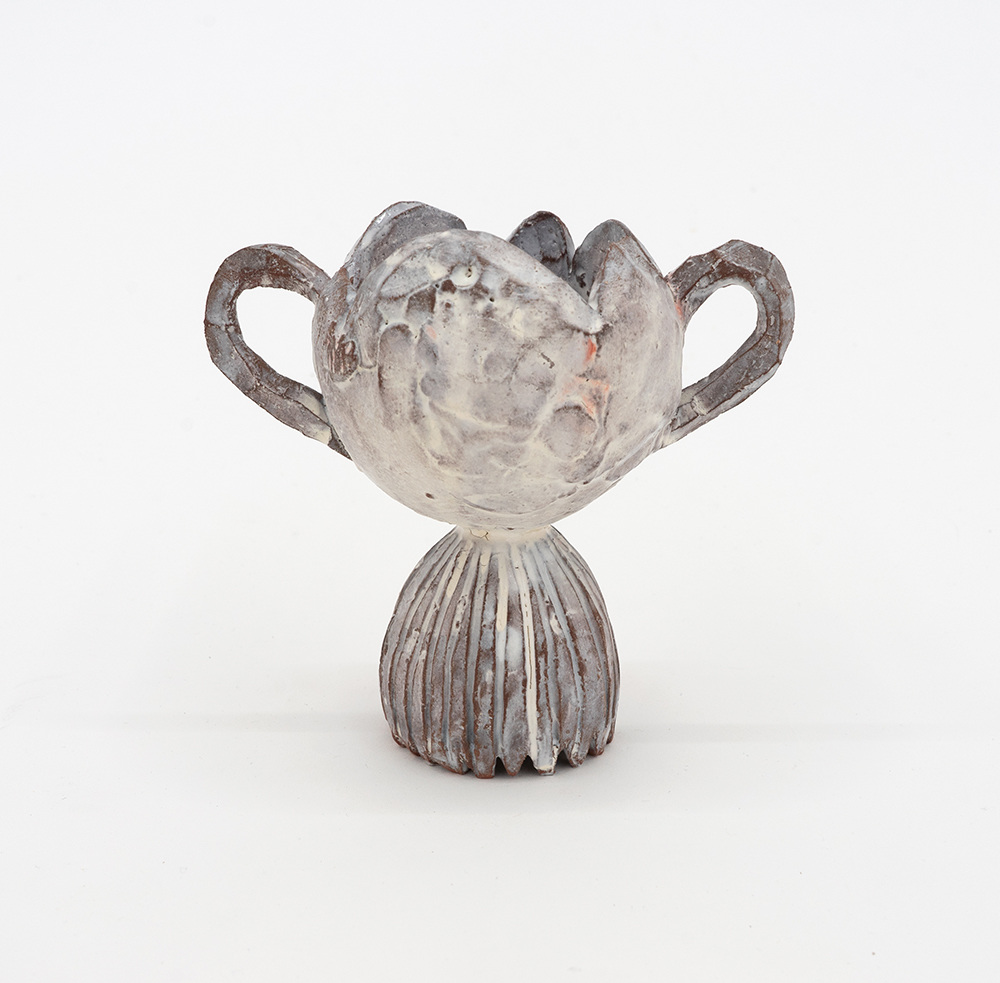 Joanna Bloom
Untitled (Trophy)
, 2018
ceramic with low fire glazes and underglazes
4 3/4 x 5 1/2 x 3 3/4 inches
JBloom_201822
Joanna Bloom
Untitled (Trophy)
, 2018
ceramic with low fire glazes and underglazes
6 3/4 x 7 1/4 x 3 inches
JBloom_201830
Joanna Bloom
Untitled (Trophy)
, 2018
ceramic with low fire glazes and underglazes
8 1/4 x 6 x 4 1/2 inches
JBloom_201842
Joanna Bloom
Untitled (Trophy)
, 2018
ceramic with low fire glazes and underglazes
6 x 7 3/4 x 3 inches
JBloom_201828
Joanna Bloom
Untitled (Bowl)
, 2018
ceramic with low fire glazes and underglazes
32 x 22 1/2 x 7 inches
JBloom_201850
Joanna Bloom
Untitled (Bowl)
, 2018
ceramic with low fire glazes and underglazes
30 1/2 x 19 3/4 x 7 1/2 inches
JBloom_201849
Joanna Bloom
Untitled (Bowl)
, 2017
ceramic with low fire glazes and underglazes
17 1/2 x 12 x 4 inches
JBloom_201846
Joanna Bloom
Untitled (Bowl)
, 2017
ceramic with low fire glazes and underglazes
18 x 12 x 4 1/2 inches
JBloom_201847