Joe Feddersen: Extended Family
October 27–November 25, 2023
Opening: Friday, October 27, 5–7pm
PRESS
Oregon Arts Watch
Joe Feddersen's 'Extended Family'
Shannon M. Lieberman
November 16, 2023
Adams and Ollman is pleased to present
Extended Family
, a solo exhibition by Joe Feddersen (b. 1953, Omak, WA; member of the Confederated Tribes of the Colville Reservation), featuring new collage works and his iconic sculptural glass installation
Charmed—Canoe Journey
, which explore and honor the interconnectedness of all things. A celebrated printmaker, basket weaver, and glass artist known for uniting urban imagery and Indigenous design, Feddersen uses a variety of materials and techniques to playfully deconstruct and reinterpret aesthetic legacies, both Indigenous and colonial, to draw attention to the ways in which these signifiers and their attendant cultural-historical narratives are intimately linked throughout time and place. The exhibition opens October 27, 2023 and is on view through November 25, 2023.
Found throughout Feddersen's sculptures and works on paper are stylized forms that are layered and juxtaposed using color and transparency to create a sense of movement. Pylons, tire tracks, combustible engines, bingo cards, and other markers of contemporary life and the urban landscape are geometrically abstracted in ways that suggest influence of both Plateau Indian and 20th century Western aesthetic traditions. Throughout his practice, Feddersen highlights the nature of form as both an ensconced system, laden with specific cultural history and significance, and as a mutable, subject to reinterpretation depending on use and context. For Feddersen, it is this ambiguity that creates polysemy, opening up narrative throughout time and space and allowing for connection.
Central to
Extended Family
is
Charmed—Canoe Journey
, an installation consisting of several hundred glass pieces that form a curtain spanning the entire length of a gallery wall. These transparent glyphs, fashioned after animals, plants, people, and material culture, catch, refract, and block light, creating a glittering dance of light and shadow. The glass pieces slowly drift or turn, throwing spontaneous rays of light and casting shadows that move in and out of one another to create new hybrid shapes on the wall. There is a sense that the history embedded in the forms is always present, while their interactions, orientations, and ability to conjure new forms, feelings, and significance remains infinite.
Accompanying the installation is a series of recent collages inspired by the idea of a family photo album, something which constructs a visual narrative of private experience and community history. Much like the glass charms which compose
Charmed—Canoe Journey
, the forms found in these collages range from portraits of people and animals and snippets of the landscape, to abstracted shapes and patterns that recall designs found in domestic interiors. Feddersen's stenciled figures are often voids in the picture plane—an absence of information framed by their surroundings—and other times resemble graffiti, drawing a throughline from the petroglyphs created by generations past. Feddersen manages all of these complex juxtapositions of time, culture, and place with deft aesthetic balance and a sense of material play as he combines found paper, cut-up prints, found materials and staples to weave new narratives.
Joe Feddersen earned a BFA at the University of Washington and an MFA at the University of Wisconsin-Madison. A faculty member at The Evergreen State College in Olympia, WA from 1989 until his retirement in 2009, he was awarded Faculty Emeritus Status. In 2018, he was granted the MoNA Luminaries Legacy Award from the Museum of Northwest Art, La Conner, WA. He has been featured in numerous exhibitions including:
Continuum 12 Artists: Joe Feddersen
, National Museum of the American Indian, Smithsonian Institution at the George Gustav Heye Center, New York, NY;
Land Mark
, Northwest Museum of Arts & Culture, Spokane, WA; and was the subject of a major retrospective exhibition and monograph,
Vital Signs
, organized by the Hallie Ford Museum of Art at Willamette University, Salem, OR and published by the University of Washington Press. Upcoming exhibitions include:
The Land Carries Our Ancestors: Contemporary Native Artists
, National Gallery of Art, Washington, D.C.;
Here Now and Always
, Zimmerli Museum, Rutgers, NJ; and
Joe Feddersen Retrospective
, The Museum of Art and Culture, Spokane, WA. Currently, Feddersen's work is featured in
Sharing Honors and Burdens: Renwick Invitational 2023
, Renwick Gallery, Smithsonian American Art Museum, Washington, D.C. Feddersen's work appears in numerous public collections including the Seattle Art Museum, Seattle, WA; the Jordan Schnitzer Museum of Art, Eugene, OR; the Portland Art Museum, Portland, OR; the Whitney Museum of American Art, New York, NY; the Heard Museum, Phoenix, AZ; and the Peabody Essex Museum, Salem, MA.
Works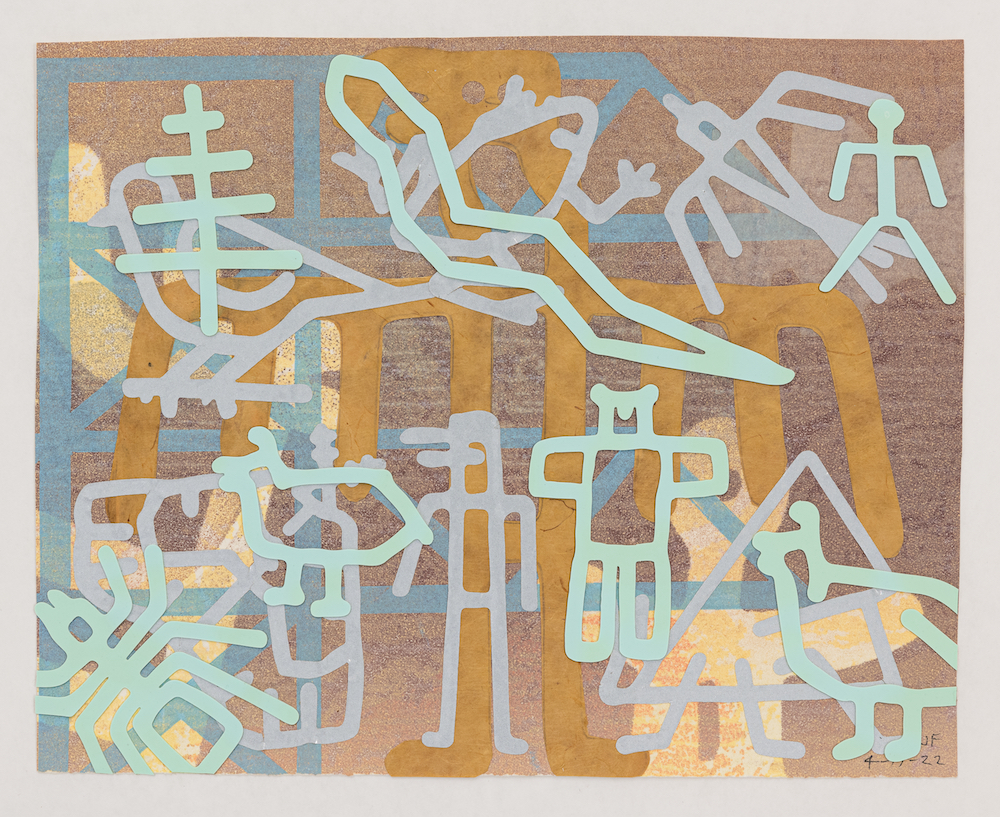 Joe Feddersen
Family Album #8
, 2022
reflective vinyl, ink, paper
8 1/2h x 11w in
21.59h x 27.94w cm
FED2022001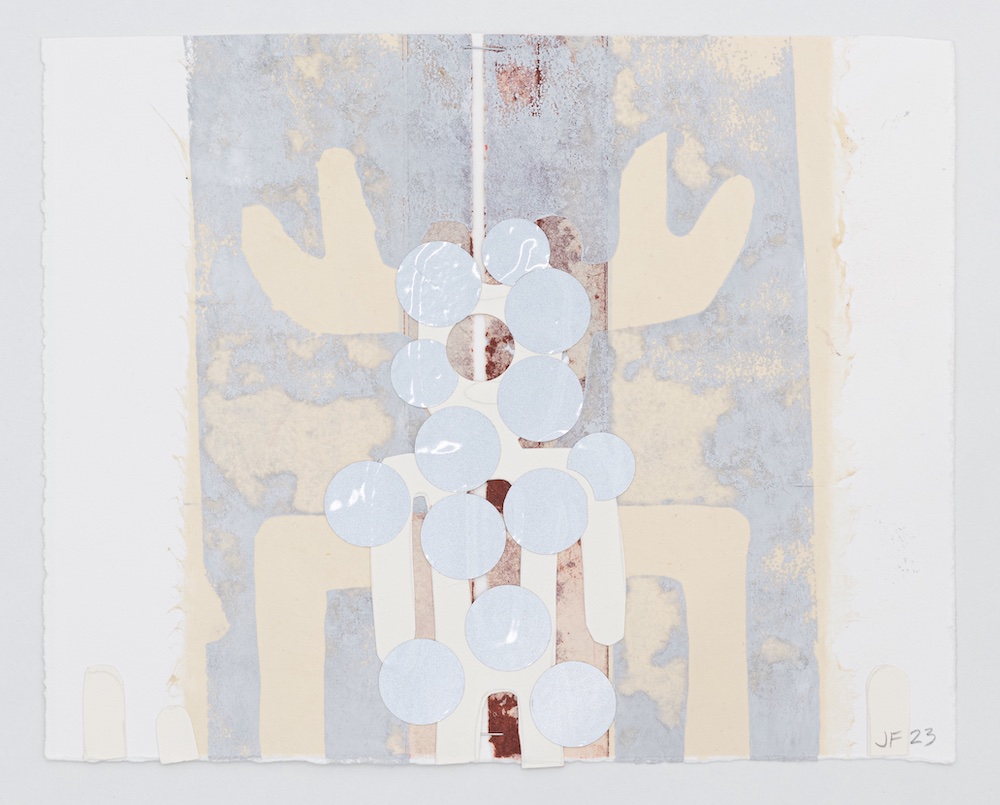 Joe Feddersen
Family Album #65
, 2023
reflective vinyl, ink, paper
8 1/2h x 11w in
21.59h x 27.94w cm
FED2023049
Joe Feddersen
Family Album #26
, 2023
ink, paper
8 1/2h x 11w in
21.59h x 27.94w cm
FED2023075
Joe Feddersen
Family Album #49
, 2023
ink, paint, staples, paper
8 1/2h x 11w in
21.59h x 27.94w cm
FED2023060
Joe Feddersen
Family Album #4
, 2023
ink, spray paint, staples, paper
8 1/2h x 11w in
21.59h x 27.94w cm
FED2023005
Joe Feddersen
Family Album #13
, 2023
ink, paper
8 1/2h x 11w in
21.59h x 27.94w cm
FED2023012
Joe Feddersen
Family Album #53
, 2023
ink, spray paint, staples, paper
8 1/2h x 11w in
21.59h x 27.94w cm
FED2023028
Joe Feddersen
Family Album #25
, 2023
ink, paper
8 1/2h x 11w in
21.59h x 27.94w cm
FED2023076
Joe Feddersen
Family Album #74
, 2023
ink, paper
8 1/2h x 11w in
21.59h x 27.94w cm
FED2023043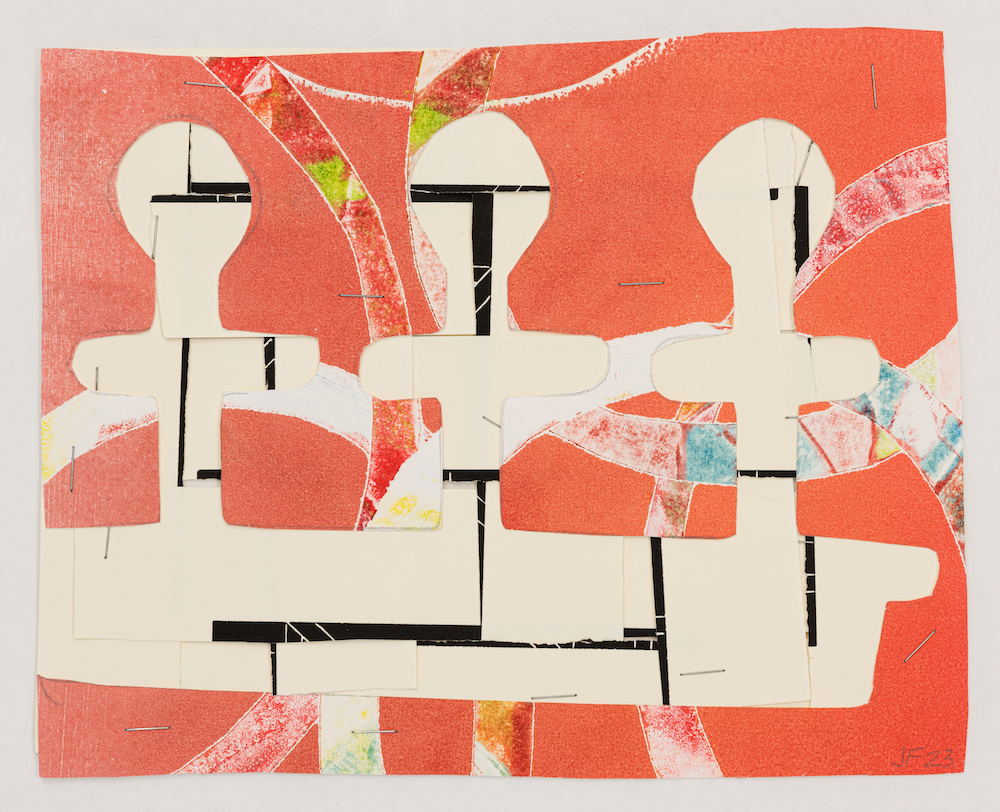 Joe Feddersen
Family Album #20
, 2023
ink, staples, paper
8 1/2h x 11w in
21.59h x 27.94w cm
FED2023017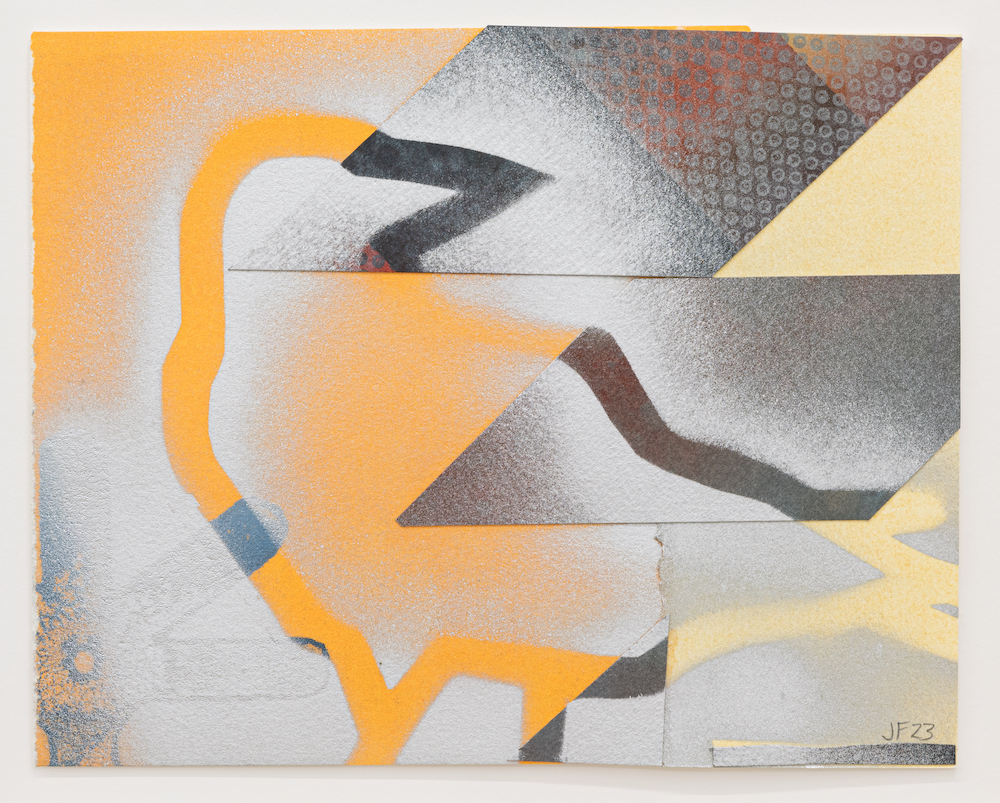 Joe Feddersen
Family Album #43
, 2023
ink, spray paint, paper
8 1/2h x 11w in
21.59h x 27.94w cm
FED2023031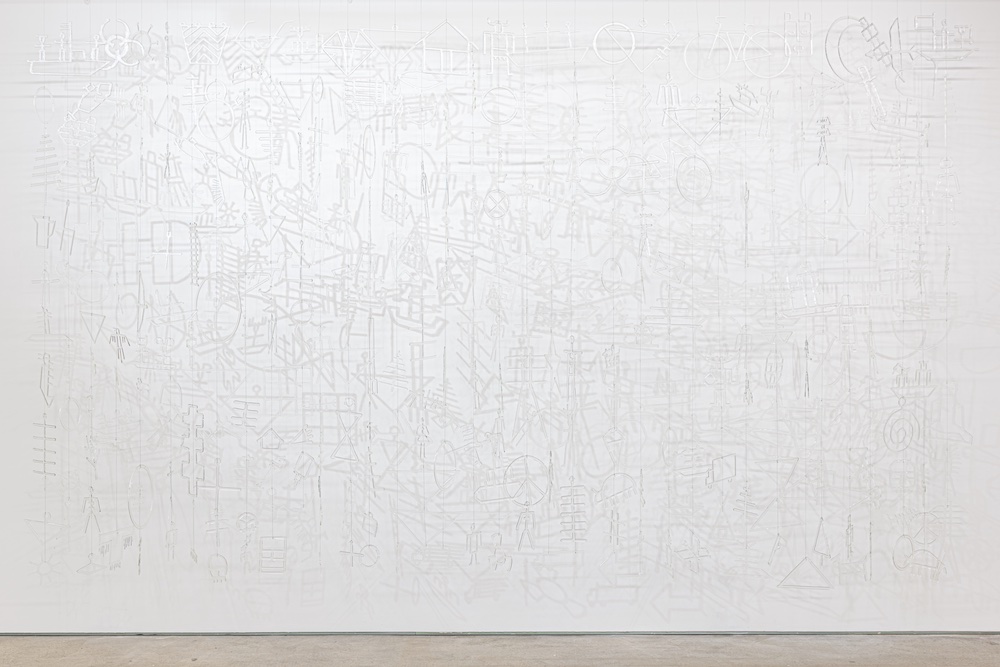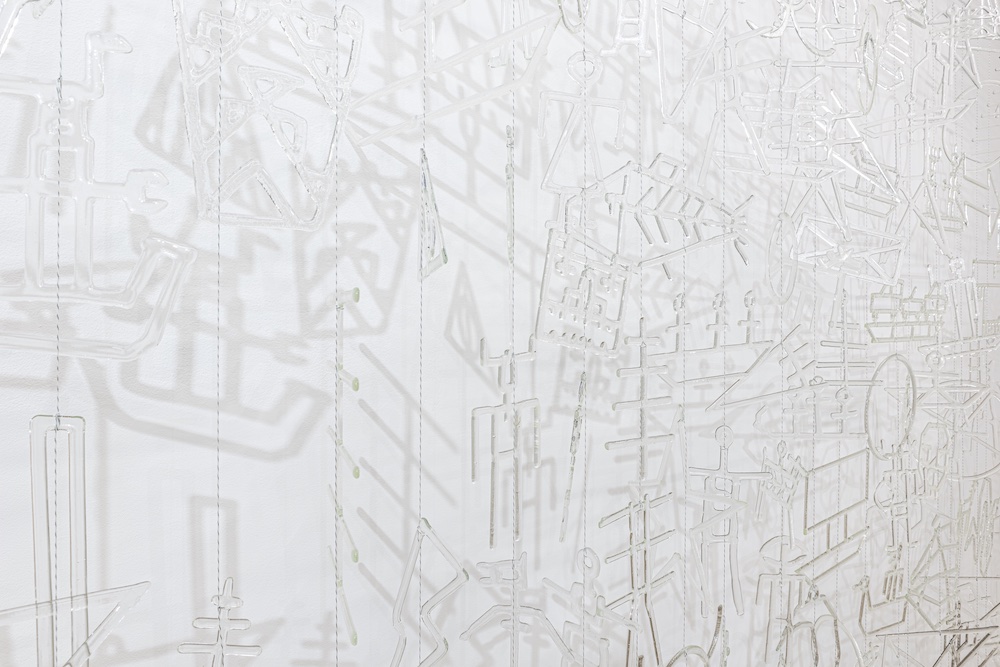 Joe Feddersen
Charmed—Canoe Journey
, 2014
fused glass
132h x 132w x 6d in
335.28h x 335.28w x 15.24d cm
FED2014001
Joe Feddersen
Family Album #23
, 2023
reflective vinyl, ink, paper
8 1/2h x 11w in
21.59h x 27.94w cm
FED2023078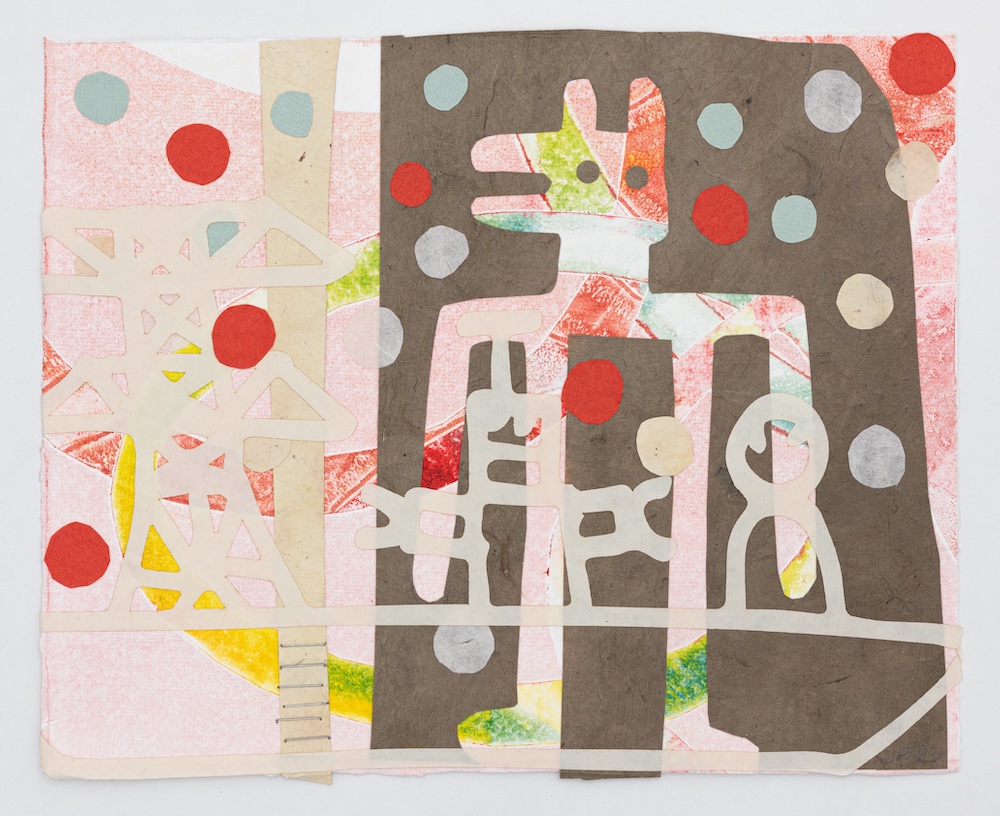 Joe Feddersen
Family Album #57
, 2023
ink, staples, paper
8 1/2h x 11w in
21.59h x 27.94w cm
FED2023055
Joe Feddersen
Family Album #2
, 2023
ink, spray paint, staples, paper
8 1/2h x 11w in
21.59h x 27.94w cm
FED2023007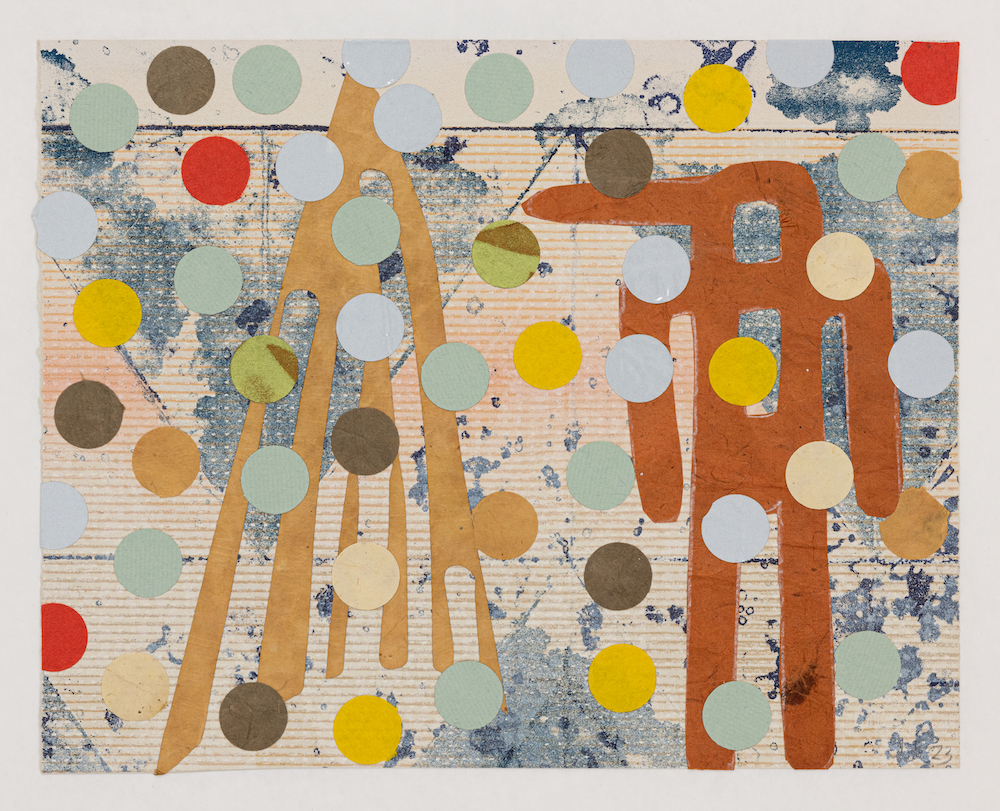 Joe Feddersen
Family Album #14
, 2023
reflective vinyl, ink, paper
8 1/2h x 11w in
21.59h x 27.94w cm
FED2023014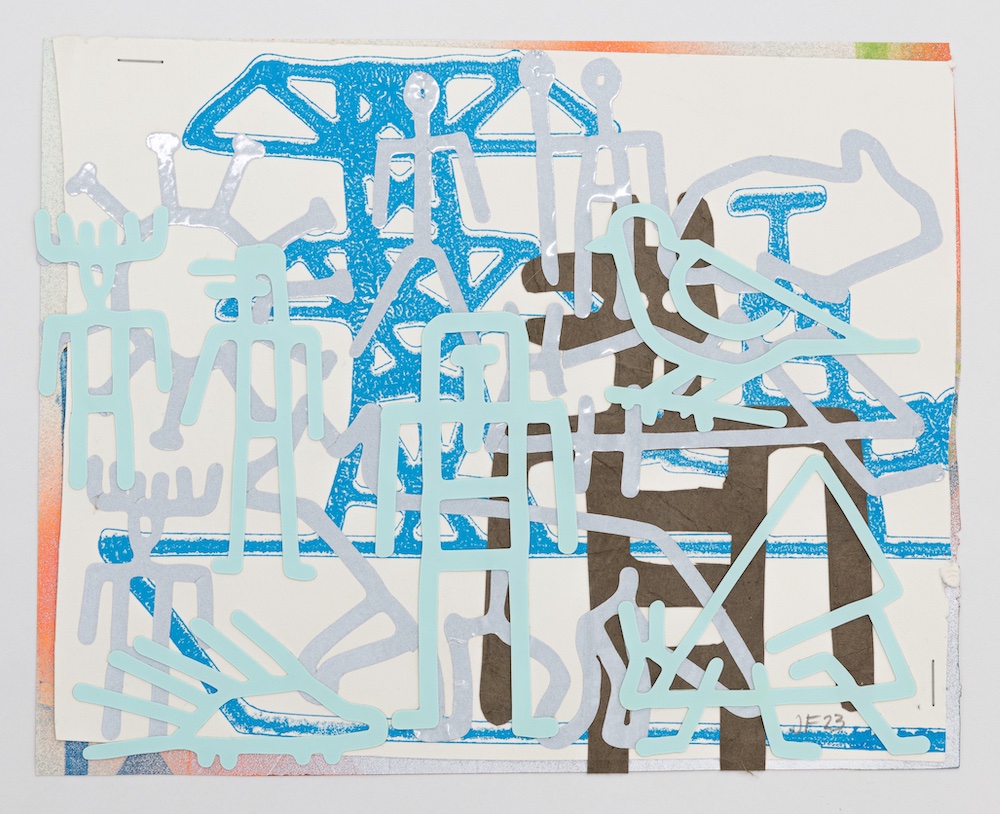 Joe Feddersen
Family Album #76
, 2023
reflective vinyl, ink, staples, paper
8 1/2h x 11w in
21.59h x 27.94w cm
FED2023041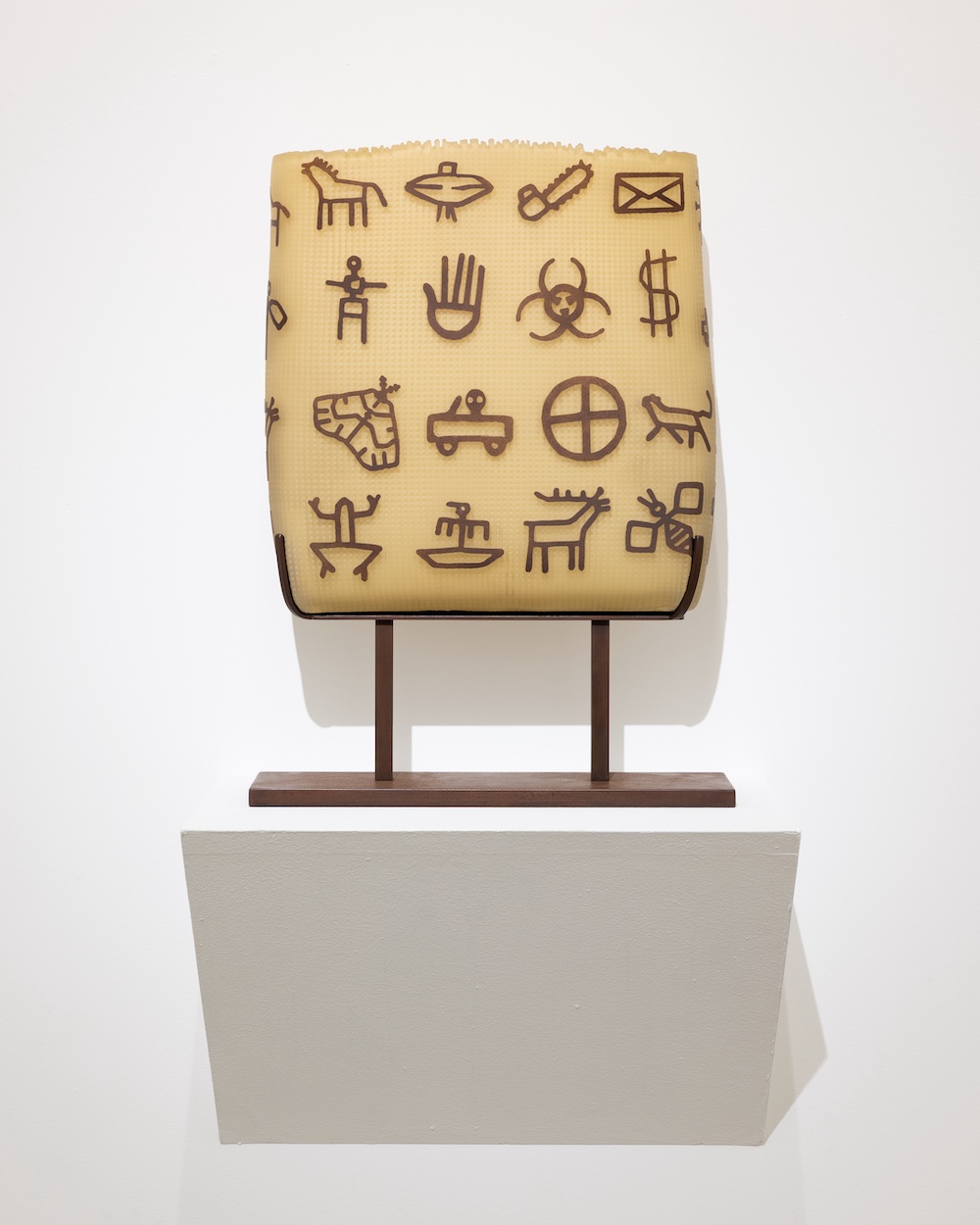 Joe Feddersen
Codex
, 2023
sandblasted blown glass
13h x 12w x 5d in
33.02h x 30.48w x 12.70d cm
FED2023086
Installation