Katherine Bradford and Sarah Gamble
November 7–December 20, 2014

Adams and Ollman is pleased to announce a two person exhibition with Katherine Bradford and Sarah Gamble on view November 7 through December 20, 2014. Bradford and Gamble make emotive and exuberant paintings that feature direct, immediate mark-making and brilliant color. Sharing an overlapping visual lexicon, both artists embrace an animistic and raw dream world.

On view will be a selection of intimate paintings by Katherine Bradford, whose cast of characters–ships, swimmers, superheroes–are caught mid-motion, floating, flying and drifting against bold brush strokes and luminous fields of color. Bradford conjures her symbolic imagery including red skies and archetypal figures from an economy of intuitive and primitive marks. Her lush, painterly surfaces merge abstraction with figuration in a highly personal way to describe, not form, but feeling. The paintings, all nightscapes, flicker and glow with a strange phosphorescent light that suggests deep, dark dreams and a hazy space between reality and imagination.

In Red Reflection, a red rectangle becomes a bulky ocean liner adrift and alone in the blackness. In another work, a soaring superman is seen against a starry sky with loopy brush marks trailing behind that suggest that our hero is not on a mission, but on a joy ride. Consistent throughout the work is the suggestion of new frontiers and failed journeys. Humanistic and intense, Bradford's paintings explore the infinite through color, shape, and symbol and are, in turns, humorous, epic, emotional and vulnerable.

Much like Bradford's works, Sarah Gamble's paintings are dark, mysterious and personal. But while Bradford explores an interiority, Gamble investigates other worlds and unknown dimensions. In Gamble's works, body parts, fences, ancient vessels, towers, nets, ghosts and webs are conjured from bits, pieces, globs, smears, dashes and sprays of paint and pastel. The resulting images are recognizable, but displaced and odd. Revealing an idiosyncratic vision of strange beings and liminal spaces, the paintings radiate with energy, spirits and rituals Select works on view at Adams and Ollman were completed by the artist while at the Roswell Artist in Residence Program in Roswell, New Mexico.

Katherine Bradford lives and works in New York and Maine. Her works have been exhibited at MoMA PS 1, New York; the Brooklyn Museum, New York; the Portland Museum of Art, Maine; the Addison Gallery of American Art, Massachusetts; the Weatherspoon Gallery, North Carolina; and the University of the Arts, Philadelphia. Concurrent with her exhibition at Adams and Ollman, Bradford is the subject of a solo exhibition that opens in November at Arts & Leisure in East Harlem. She has been honored with an award from the American Academy of Arts and Letters, a Pollock-Krasner Foundation Grant, a Joan Mitchell Foundation Grant and a Guggenheim Fellowship. Her work is in the permanent collections of New York City's Metropolitan Museum of Art, the Brooklyn Museum, and the New York Public Library; the Wooster Art Museum, Ohio; the Portland Museum of Art, Maine; Farnsworth Museum, Maine; Smith College Museum, Massachusetts; Bryn Mawr College, Pennsylvania; the University of Delaware; and a number of major corporations.

Sarah Gamble lives and works in Philadelphia, PA. She received a BFA from the Corcoran School of Art and an MFA from the University of Pennsylvania. She was a 2009 Pew Fellowship Recipient and 2006 Bemis Center for Contemporary Art Fellow and has exhibited her work widely. Residencies include Millay Colony for the Arts, Bemis Center for Contemporary Art, Atlantic Center for the Arts, Vermont Studio Center and Roswell Artist in Residence Program.

installation view: Katherine Bradford and Sarah Gamble
installation view: Katherine Bradford and Sarah Gamble
installation view: Katherine Bradford and Sarah Gamble
installation view: Katherine Bradford and Sarah Gamble
Katherine Bradford
Shell Seeker
, 2014
oil and acrylic on canvas
16 x 23 inches
KBrad 07
Katherine Bradford
Open Ocean at Night
, 2014
oil on canvas
20 x 36 inches
KBrad 04
Katherine Bradford
Superman Flight Gray Sky
, 2014
oil on canvas
16 x 20 inches
KBrad 10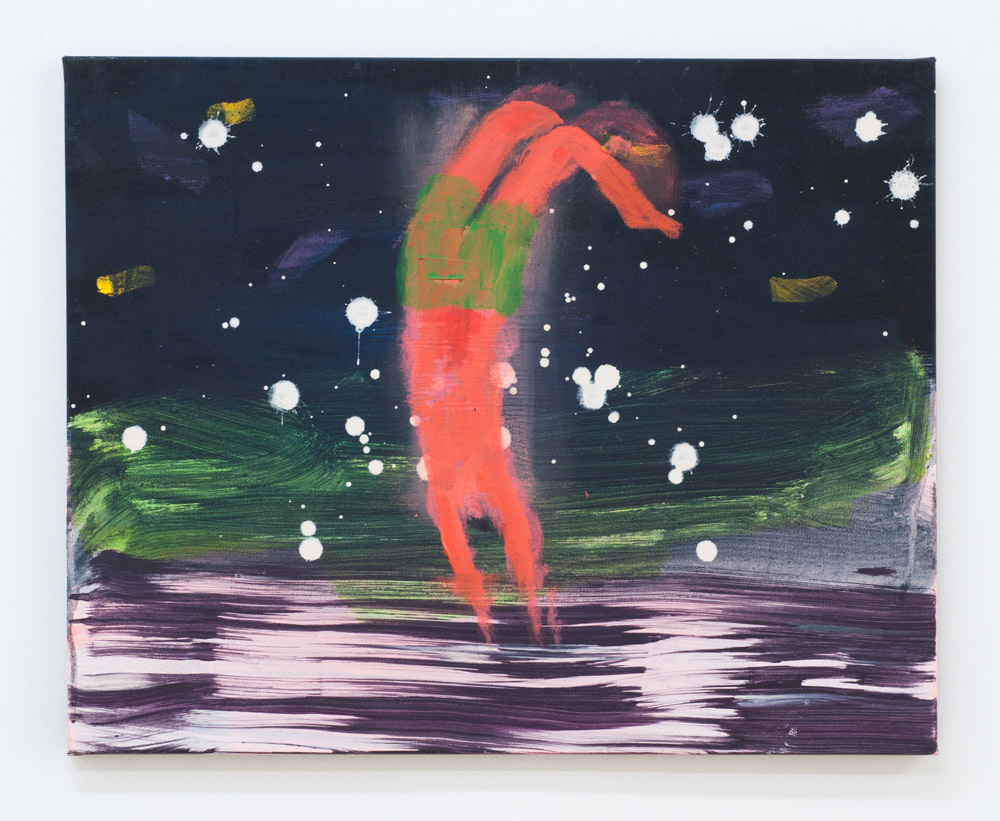 Katherine Bradford
Diver Green Suit
, 2014
oil and acrylic on canvas
16 x 20 inches
KBrad 01
Katherine Bradford
Green Hoodie Canoe
, 2014
oil on canvas and wood
16 x 16 inches
KBrad 02
Katherine Bradford
Horse and Rider in Water
, 2012-14
oil on canvas
14 x 12 inches
KBrad 03
Katherine Bradford
Red Reflection
, 2014
oil on canvas
24 x 18 inches
KBrad 05
Katherine Bradford
Ship, Night Swimmers
, 2014
oil on canvas
15 x 11 inches
KBrad 08
Katherine Bradford
Superman Color Border
, 2014
oil on canvas
7 x 5 inches
KBrad 09
Sarah Gamble
Prince
, 2014
oil on canvas
18 x 18 inches
SGam 60
Sarah Gamble
Untitled
, 2013
acrylic on panel
24 x 16 inches
SGam 55
Sarah Gamble
Book
, 2014
acrylic on panel
26 x 28 inches
SGam 61
Sarah Gamble
Yeslights
, 2012
mixed media on paper
16 x 20 inches
SGam 62