Magdalena Suarez Frimkess and Luis Romero
October 16–December 19, 2015

Adams and Ollman is pleased to announce a two person exhibition with Magdalena Suarez Frimkess and Luis Romero.

On view will be a range of new ceramic works by Magdalena Suarez Frimkess. Once described by Art in America as "the most daring sculptor working in Chile", Suarez Frimkess, a self­taught potter, has created a highly personal and idiosyncratic body of solo and collaborative ceramic works since the 1960s.

Roughly fashioned and holding tenuously to the idea of function, Suarez Frimkess' cups, mugs and pitchers serve as three­dimensional canvases on which she depicts a daily narrative that is as much influenced by history and tradition, as it is by comics and television. Art historical references collide with pop culture, politics and family history as she upends expectations while continuing the long tradition of storytelling through pottery.

Included in the exhibition are small­scale vessels on which Suarez Frimkess has painted cityscapes, a bicyclist pedaling in Venice Beach, and a woman browsing in the self­help section of the library. Additionally, figurative sculptures of women, cats and horses allude to material culture and folk traditions–such as Face Jugs, head jars and Nazca trophy heads–all the while maintaining the spirit of souvenirs found in tourist markets.

Much like Suarez Frimkess ceramics, Luis Romero's compositions acknowledge a push and pull between two and three dimensions, surface and structure. From disparate imagery or marks, both artists create a cohesive whole–one that is layered and collage­like–from everyday images and materials. While mindful of traditions, each is equally irreverent and humorous, consciously making something handmade, that rides a line between function and decoration. While Suarez Frimkess elaborates sculptural objects with painted imagery, Romero creates sculptural objects from paper and paint.

With their rich color and eye­buzzing patterns, Luis Romero's constructions are made with small and oddly shaped bits of paper, cardboard and paint arranged into orderly rows and tiers. The accumulation of these rhythmic marks and gestures, seemingly governed by their own logic, creates elegant, contemplative spaces that are visually confusing and ambivalent. The marks that Romero uses to make patterns and organic forms serve to obscure the supports and contents they cover, much like camouflage or razzle dazzle. Elucidating a dependence between presence and absence, the works suggests a surface as well as areas that are hidden or not visible. Often working on a piece over the course of many years, the artist reconfigures these pieces or fragments into something whole again that can be read as haptic architecture, fetishes or toys.

Magdalena Suarez Frimkess (born 1929, Venezuela) lives and works in Venice Beach, California. After studying art at the Pontifica Universidad Catolica de Chile, Suarez Frimkess came to the United States in 1963 as a fellow at the Clay Art Center in Port Chester, New York. There she met Michael Frimkess, who would became her husband and lifelong artistic collaborator. For more than fifty years, Michael threw pots in the traditional Greek manner (using no water with coarse clay creating paper thin walls) that Magdalena would then decorate. While never training formally as a potter, Suarez Frimkess also began making her own ceramic sculptures in the 1970s.

Luis Romero (born 1970, Mexico) lives and works in Chicago. He received his MFA in painting and drawing at the School of the Art Institute of Chicago in 2001, building upon a degree in philosophy from Boston University. Recent exhibitions include Of, To, and From Ray Yoshida at the Pennsylvania Academy of the Fine Arts, Philadelphia; Rocket Run: Abstraction from Chicago, Nebraska Wesleyan University, Lincoln NE; Day Job, Drawing Center, New York. His work is in the following public collections: Philadelphia Museum of Art, Pennsylvania; The Pennsylvania Academy of the Fine Arts; Rhode Island School of Design Museum.



installation view: Magdalena Suarez Frimkess and Luis Romero
installation view: Magdalena Suarez Frimkess and Luis Romero
installation view: Magdalena Suarez Frimkess and Luis Romero
installation view: Magdalena Suarez Frimkess and Luis Romero
installation view: Magdalena Suarez Frimkess and Luis Romero
installation view: Magdalena Suarez Frimkess and Luis Romero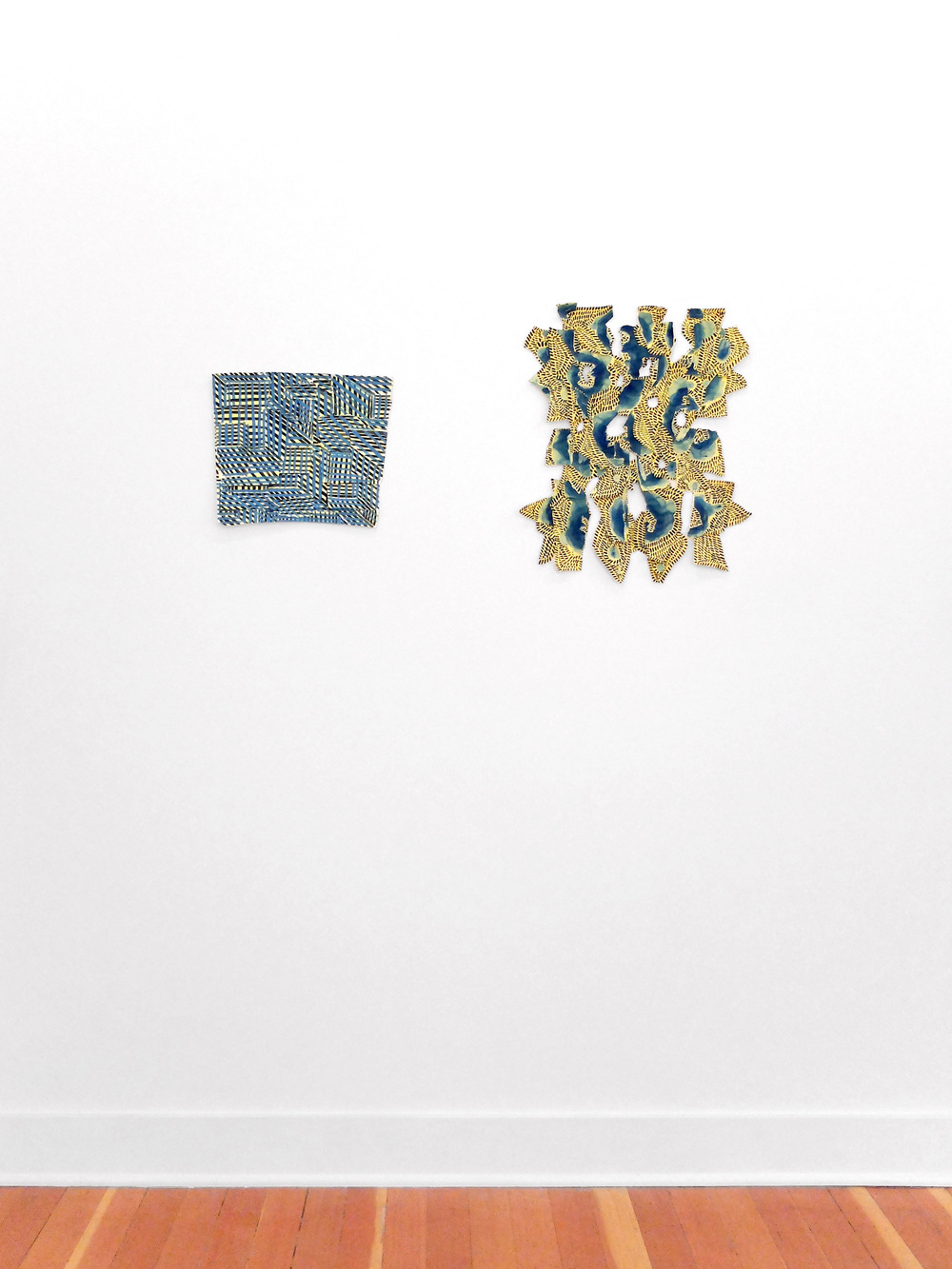 installation view: Magdalena Suarez Frimkess and Luis Romero
installation view: Magdalena Suarez Frimkess and Luis Romero
installation view: Magdalena Suarez Frimkess and Luis Romero
installation view: Magdalena Suarez Frimkess and Luis Romero
installation view: Magdalena Suarez Frimkess and Luis Romero
installation view: Magdalena Suarez Frimkess and Luis Romero
installation view: Magdalena Suarez Frimkess and Luis Romero
installation view: Magdalena Suarez Frimkess and Luis Romero
Luis Romero
Armored Belly/Frazzled Drawing
, 2012
acrylic on cardboard
19 x 18 inches
LRo 151
Luis Romero
Lisa Simpson Returns from the Dead
, 2014
acrylic on paper
23 1/2 x 19 1/4 inches
LRo 179
Magdalena Suarez Frimkess
Untitled
, 2015
ceramic
6 inches in height
MSF_2015_11
Magdalena Suarez Frimkess
Untitled
, 2015
ceramic
5 1/2 inches in height
MSF_2015_10
Luis Romero
Untitled
, 2013
acrylic, pencil and crayon on paper
12 1/2 x 13 1/2 inches
LRo 171
Magdalena Suarez Frimkess
Untitled
, 2015
ceramic
4 inches high, 2 7/8 in diameter
MSF_2015_01
Luis Romero
Glam Rock Succubus
, 2014
acrylic on paper
20 x 21 inches
LRo 177
Magdalena Suarez Frimkess
Untitled
, 2015
ceramic
4 inches high, 3 inches in diameter
MSF_2015_05
Luis Romero
Untitled
, 2010
acrylic, pencil, crayon on paper
17 x 22 3/4 inches
LRo 178
Magdalena Suarez Frimkess
Untitled
, 2015
ceramic
4 1/4 inches in height, 3 inches in diameter
MSF_2015_08
Luis Romero
Art is Their Facemask/Crab Drawing
, 2015
acrylic on paper
23 x 31 inches
LRo 181
Luis Romero
A Kind of Furniture, A Radiator/Anonymous Drawing
, 2011
acrylic, pencil, crayon on paper
15 1/4 x 21 inches
LRo 147
Magdalena Suarez Frimkess
Untitled
, 2015
ceramic
2 7/8 inches in height, 3 7/8 in diameter
MSF_2015_12
Magdalena Suarez Frimkess
Untitled
, 2015
ceramic
5 inches high, 3 1/4 in diameter
MSF_2015_02
Magdalena Suarez Frimkess
Untitled
, 2015
ceramic
5 1/2 inches in height
MSF_2015_07
Luis Romero
A Cocoon (Ruin)
, 2011
acrylic, pencil and ink on paper
19 3/4 x 12 1/2 inches
LRo 175