Mariel Capanna: Overlook
February 12–March 13, 2021
Inspired by moving images, Mariel Capanna explores the subtleties of place and perception in a series of oil paintings on panel in her solo exhibition
Overlook
. Continuing to work from films, documentaries, slideshows of found photos, and home videos, Capanna employs a collagist's approach to composition and image-making. With accumulating gestures and marks that toggle between representation and abstraction, Capanna captures fleeting imagery as it moves off-screen or into the next scene. The sequence and evolution of vantage points are recorded with harmonizing color and form: the painting field is littered with fragments and traces, yielding an unnameable image.
Flat marks are scattered upon an illusionistic depth drawn from the artist's memory of the sky's varying gradient in Utah (where she lives and produced this body of work) and reference the present conditions of daily experience and interpersonal exchange that is almost solely mediated through a screen. The competing elements—a depth of field and marks that live on the surface—balance in exquisite tension. Situated in the foreground, removed from the density of detail and information on the surface, the viewer looks past their immediate surroundings to realize that something is happening elsewhere: at a different speed, in a different mood, with a different collection of colors. This expression of simultaneity produces an awareness of a key theme in Capanna's new work: distance. Distance between one geographic location and another, between then and now, between the first and last mark of paint, between one human being and another, and between movement and stillness.
Coinciding with her presentation at Adams and Ollman will be a site-specific installation of Capanna's work in the artist's dining nook in Salt Lake City—a space with a built-in table and benches facing a window that frames the outside world. Presented by Good Weather gallery, the works in this intimate setting echo key concepts found in the works on view in
Overlook
.
Capanna (b. 1988, Philadelphia, PA; lives and works in Salt Lake City, UT) received a BFA and Certificate of Fine Art from the Pennsylvania Academy of the Fine Arts, and an MFA from Yale University. She has been an artist in residence at the Guapamacátaro Art and Ecology Residency in Michoacan, Mexico; Skowhegan School of Painting and Sculpture; and at the Tacony Library and Arts Building (LAB) in Philadelphia. Capanna has also been the recipient of the Robert Schoelkopf Memorial Traveling Fellowship and an Independence Foundation Visual Arts Fellowship. Her ongoing project
Little Stone, Open Home
, with Good Weather is a long-term and perpetually changing fresco in a single-car garage in North Little Rock, Arkansas that serves as a forum for material research and collaboration through public tours, instructional workshops, invitational exhibitions, and community-focused programming.
Overlook
is her first solo show at Adams and Ollman.
Select Works
Mariel Capanna
Cigarette, Roses, String, Swan
, 2021
oil and marble dust on panel
30 x 40 inches
76.20 x 101.60 centimeters
MCapanna2021003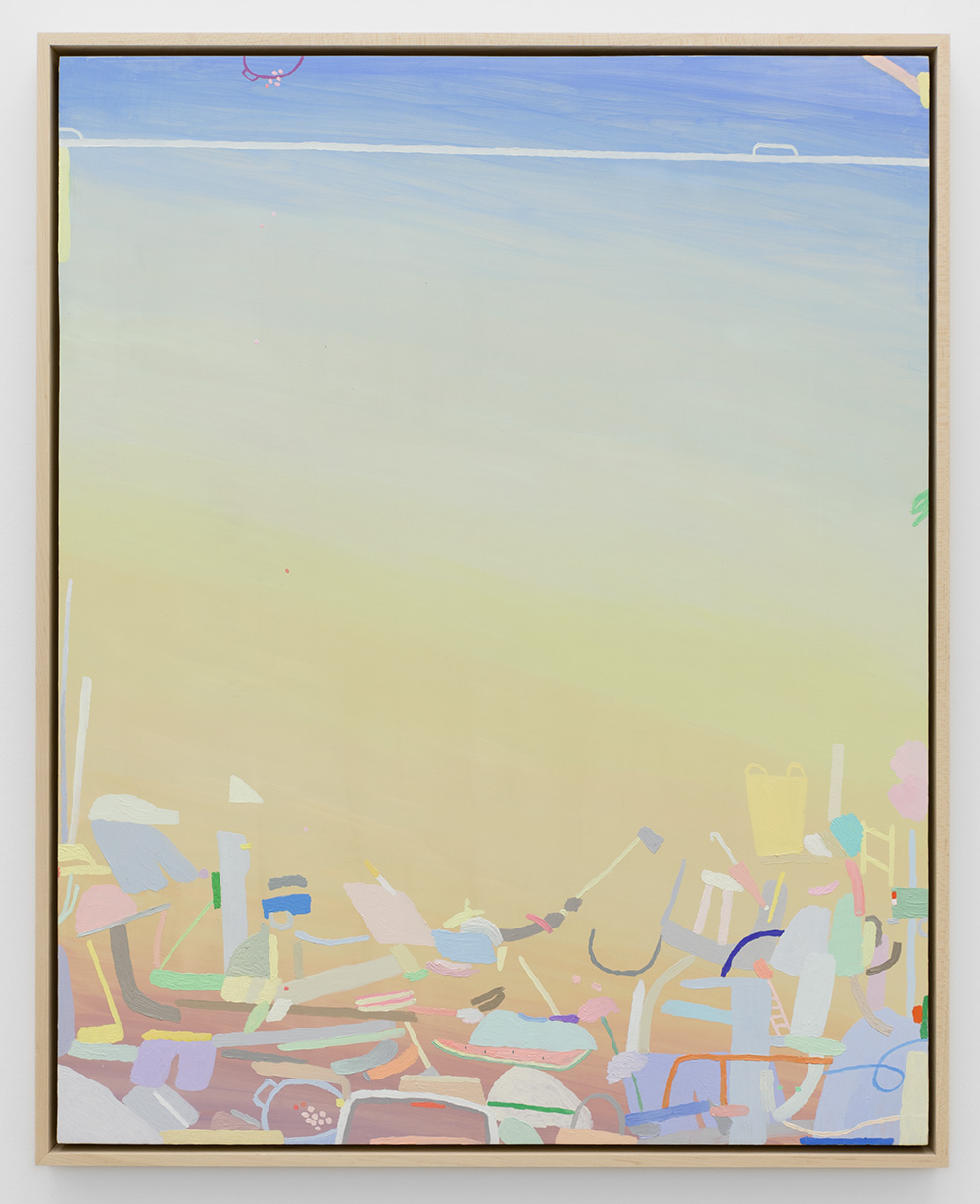 Mariel Capanna
Truck Bed, Cranberries, Watermelon, Axe
, 2021
oil and marble dust on panel
30 x 24 inches
76.20 x 60.96 centimeters
MCapanna2021007
Mariel Capanna
Spruce Tree, Overalls, Buffalo, Fence
, 2021
oil and wax on panel
8 x 10 inches
20.32 x 25.40 centimeters
MCapanna20210010
Mariel Capanna
Laundry Basket, Fire Escape, Tube Sock, Bra,
2021
oil and marble dust on panel
30 x 24 inches
76.20 x 60.96 centimeters
MCapanna2021004
Mariel Capanna
Bucket, Candle, Barrier, Mug
, 2021
oil, marble dust, and wax on panel
18 x 18 inches
45.72 x 45.72 centimeters
MCapanna20210012
Mariel Capanna
Trombone, Camera, Seagull, Mug
, 2021
oil and wax on panel
16 x 20 inches
40.64 x 50.80 centimeters
MCapanna2021002
Mariel Capanna
Awning, Tuba, Flowers, Wheels
, 2021
oil, marble dust and wax on panel
40 x 30 inches
101.60 x 76.20 centimeters
MCapanna2021006
Mariel Capanna
Sash Lock, Light Bulb, Hay Bale, Swan
, 2021
oil and marble dust on panel
12 x 9 inches
30.48 x 22.86 centimeters
MCapanna2021001
Installation Images