Mariel Capanna:
A Nice Gift for Friends and Relatives
July 9—August 27, 2022

Adams and Ollman is pleased to present A Nice Gift for Friends and Relatives, a solo exhibition of new works by Mariel Capanna (b. 1988, Philadelphia, PA; lives and works in Williamstown, MA), opening July 9 and on view through August 27, 2022. Included in the exhibition will be a new series of paintings that are elegiac in nature, inspired by a box of family photos that the artist recently unearthed in the basement of her childhood home.

Capanna explores the subtle relationships between memory, place, and perception through performative, reflexive painting. Working from direct observation of films and slideshows that play uninterrupted in her studio, Capanna indexes fleeting moments using quick painterly marks, capturing images from the background and edges of her source materials as they move on and off-screen and into the past. Through this process, the ephemeral nature of moving images and the limitations of the artist's memory yield paintings with new and unpredictable compositions. Characterized by simplified forms set against a gradient field of color that references the sky, Capanna's paintings are built of competing gestures that are in tension with one another, asking the viewer to find depth within emphatic flatness.

The artist's relationship to family photos forms the basis of her approach to painting—one that negotiates rifts between experience, mediation, and memory, and one that seeks intimacy despite and through distance. The particular cache of spiral-bound photo albums referenced in this exhibition was filled with snapshots of family life captured before the artist's mother died in the spring of 1990, when Capanna was not quite two years old. With no episodic memory of this time period, Capanna digitized and arranged these found photos into a slideshow that she played on repeat in her studio while she painted, working from eidetic memory to note evidence of the objects, rhythms, and moods that characterized this chapter of her early life. Shoelaces and gift ribbons float like streamers and baseballs, umbrellas, and butterfly nets are tossed, confetti-like, across each panel. Collecting these gestures, Capanna asks the question: "Can a series of incomplete views, clunky translations, misremembered moments, flattened experiences and oversimplifications yield something new that is still meaningful in its own right?"

Mariel Capanna received a BFA and Certificate of Fine Art from the Pennsylvania Academy of the Fine Arts, Philadelphia, PA and an MFA from Yale School of Art, New Haven, CT. She has been an artist in residence at the Guapamacátaro Art and Ecology Residency in Michoacan, MX; Skowhegan School of Painting and Sculpture, Madison, ME; and at the Tacony Library and Arts Building (LAB, Philadelphia, PA). Capanna has also been the recipient of the Robert Schoelkopf Memorial Traveling Fellowship and an Independence Foundation Visual Arts Fellowship. She is currently the Mellon Post-MFA Fellow in Studio Art at Williams College, Williamstown, MA.
Works
Mariel Capanna
Basket, Stroller, Mountain, Sheep
, 2022
oil and wax on panel
60h x 47w in
152.40h x 119.38w cm
MCapanna2022027
Mariel Capanna
Candle, Flowers, Lake, Grass
, 2022
oil and wax on panel
60h x 47w in
152.40h x 119.38w cm
MCapanna2022026
Mariel Capanna
Mobile, Cap, Turret, Trees
, 2022
oil and wax on panel
30h x 24w in
76.20h x 60.96w cm
MCapanna2022022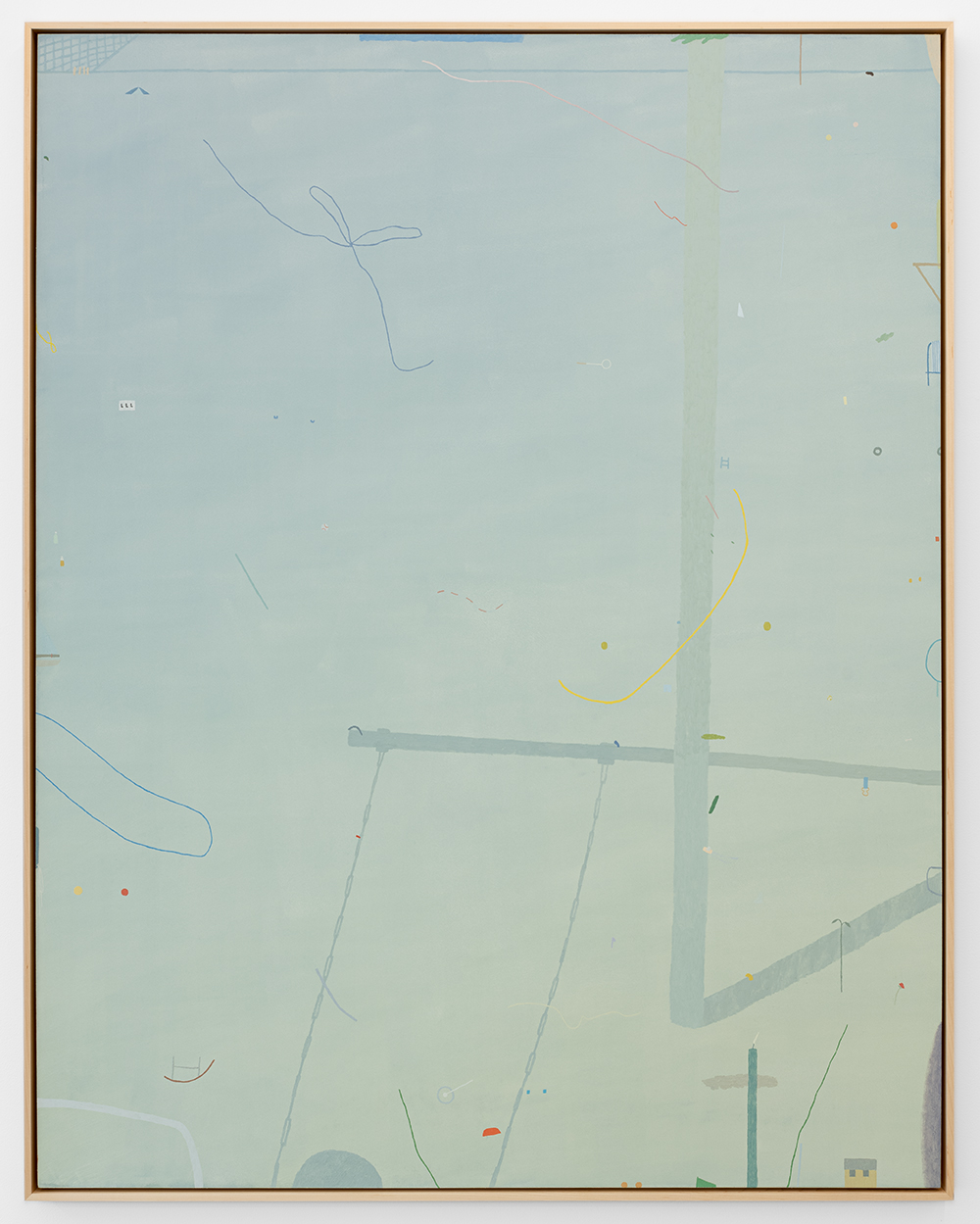 Mariel Capanna
Orange Soda, Beach Umbrella, Switch Plate, Sail
, 2022
oil and wax on panel
60h x 47w in
152.40h x 119.38w cm
MCapanna2022029
Mariel Capanna
Fly Rod, Baseball Glove, Wooden Palette, Eye
, 2022
oil and wax on panel
60h x 77w in
152.40h x 195.58w cm
MCapanna2022031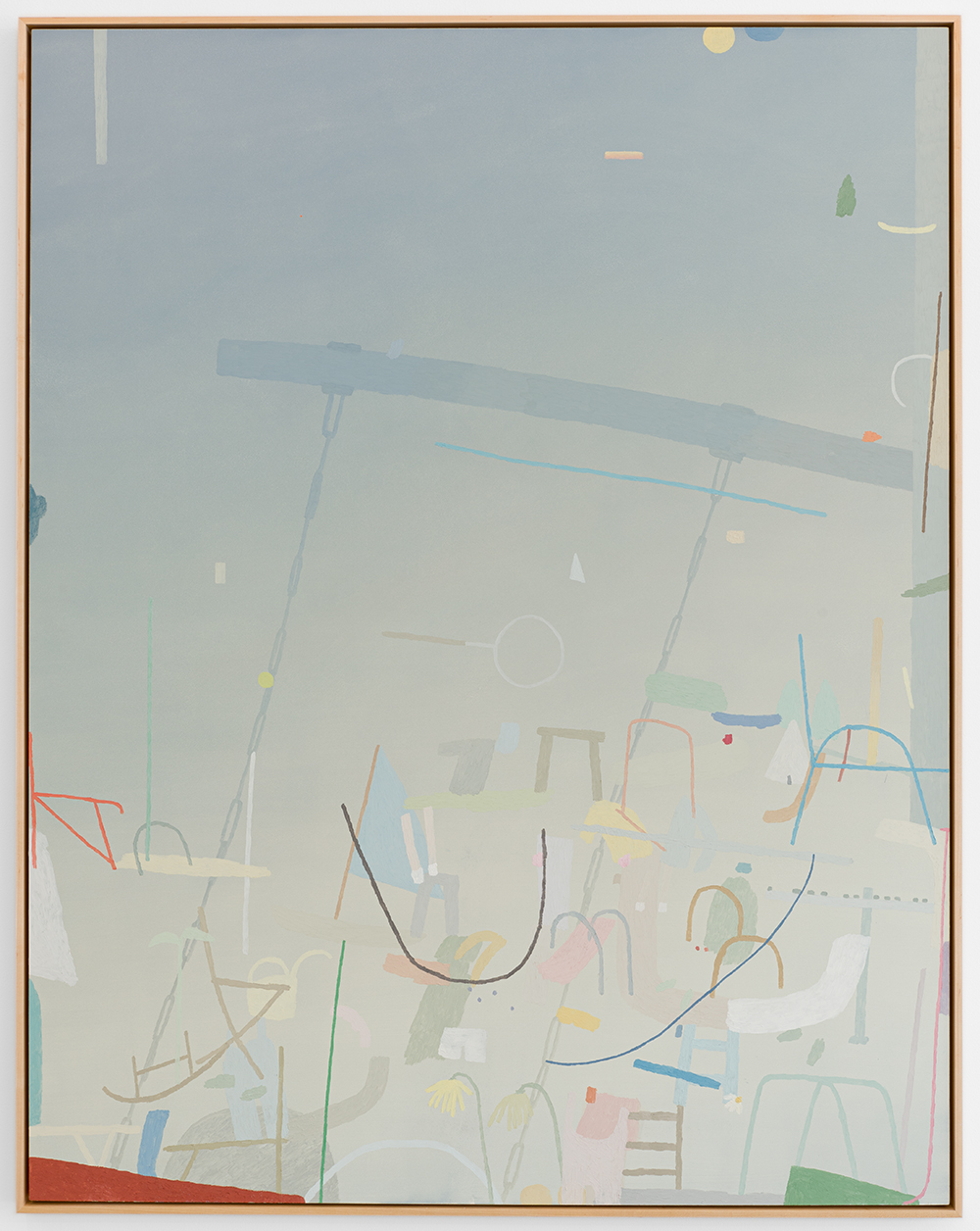 Mariel Capanna
Watering Can, Butterfly Net, Rocking Chair, Keys
, 2022
oil and wax on panel
60h x 47w in
152.40h x 119.38w cm
MCapanna2022028
Mariel Capanna
Oranges, Shoelace, Candle, Chairs
, 2022
oil and wax on panel
47h x 60w in
119.38h x 152.40w cm
MCapanna2022030
Mariel Capanna
Gift Wrap, Backwards Hat, Palm Tree, Sheep
, 2022
oil and wax on panel
30h x 24w in
76.20h x 60.96w cm
MCapanna2022020
Mariel Capanna
Car Lock, Back Deck, Dock Ladder, Hose
, 2022
oil and wax on panel
24h x 30w in
60.96h x 76.20w cm
MCapanna2022024
Installation