Nick Paparone and Jordan Rathus: Double Agency November 15, 2013–January 2014
Adams and Ollman announces the release of the new Nick Paparone and Jordan Rathus movie
Double Agency
. This mind-bending neo-noir movie steals everything, including itself. Lifting dialogue, tropes, and scenes from such cinematic greats as Reservoir Dogs and Double Indemnity, this show-stopping story about a heist is in itself a sting operation.
This drama unfolds as Jasper, an entry-level graphic designer who works at a hip advertising agency, is sweet-talked into being the host of a fake reality show (Arty Facts) that exists solely as a ruse to pull off the heist. Chloe, a fed-up reality TV production assistant and mastermind of the illicit project, uses the art of persuasion to satiate her kleptomania. A 21st century femme fatale, she knows no scruples when it comes to carrying out her illegal stockpiling rituals. Together, Jasper and Chloe chase after a rare gem of a family heirloom–an object that most of the world has only seen as a jpeg floating in cyberspace.
This is a 14.5 million dollar movie experience. Dark. Ugly. Beautiful. Pre-aesthetic. A sponge and a vacuum. The fabricated and autographed artworks such as iPhone cases, tickets, trailers, movie posters, and script pages on view at Adams and Ollman are as diligently referential as the movie itself. Shot entirely in New York City,
Double Agency
boasts a full cast of classically trained actors styled by fashion icon Nanette Lepore and Brooklyn-based clothing line Fischer.
Double Agency
is a project of Small Reward Productions.
We are going to get this thing if it's the last thing I do.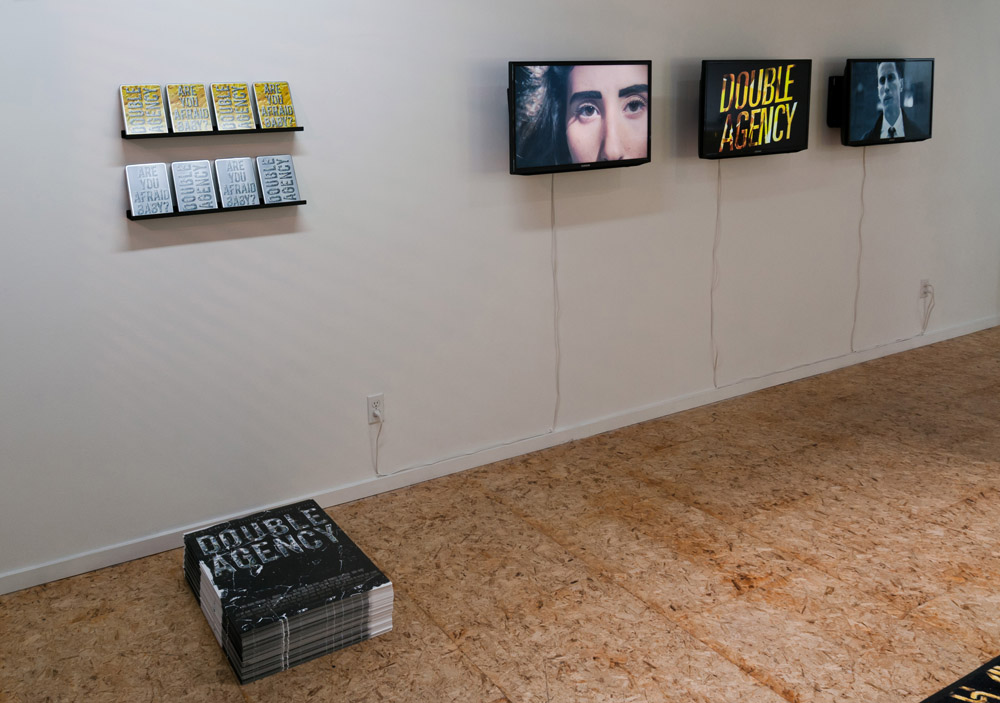 installation view:
Double Agency
installation view:
Double Agency
installation view:
Double Agency
installation view:
Double Agency
installation view:
Double Agency
installation view:
Double Agency
installation view:
Double Agency
installation view:
Double Agency
installation view:
Double Agency
Nick Paparone and Jordan Rathus
Double Agency, the Movie with Special Edition Blu-ray Case (Silver and Gold)
, 2013
exhibition copy of Double Agency, digitial print on aluminum, edition of 10 with 2 artist proofs
7 1/2 x 5 3/8 x 5/8 inches
NPJR_04 and NPJR_15
Nick Paparone and Jordan Rathus
Double Agency (Scene 0)
, 2013
HD Video, edition of 5 with 2 artist proofs
Duration: 5:01 minutes
NPJR_07
Nick Paparone and Jordan Rathus
Double Agency (Rug)
, 2013
high definition digital print on carpet, edition of 3 with 2 artists proofs
43 3/4 x 94 1/2 inches
NPJR_11
Nick Paparone and Jordan Rathus
Double Agency (LED Marquee: Scene 9)
, 2013
LED aluminum snap frame, CMYK print on vinyl, edition of 5 with 2 artist proofs
36 3/4 x 24 3/4 x 1 inches
NPJR_08