Paul Swenbeck and Joy Feasley: Moons of a Dewdrop
June 7–July 20, 2013

Adams and Ollman presents Moons of a Dewdrop, a collaborative installation by Paul Swenbeck and Joy Feasley, on view from June 7 through July 20, 2013. With shared interests in geology, magic, science fiction, and fringe belief systems, Swenbeck and Feasley experiment across a variety of media. Together the pair creates an otherworldly experience that is rooted in art history as well as craft and folk traditions.

Central to the exhibition will be a crystalline geometric form that will house clay, wire, resin, and glass sculptures that suggest a ceremonial function. A selection of paintings influenced by science fiction illustrations and Romantic landscape paintings will also be on view. Typical subject matter like trees, sunsets, and waves give way to neon mountains and hot pink skies, describing a mood and capturing the invisible. Ceramic works in the exhibition are inspired by Neolithic ritual objects, fossil forms, and Jōmon pottery, as well as the Japanese concept of wabi-sabi, which celebrates the imperfect and irregular. Also on view will be photographic prints that are made using a prism and that reveal apparitions, disjunctures, time warps and other things unseen in the landscape. Together, the artists' work forms a supernatural cabinet of curiosities.

Paul Swenbeck (b. 1967) graduated with a degree in ceramics from Massachusetts College of Art in 1991. His work has been exhibited at The Institute of Contemporary Art, Philadelphia; The Walker Art Center, Minneapolis; The Morris Gallery, The Pennsylvania Academy of the Fine Arts, Philadelphia, Fleisher/Ollman, Philadelphia; Vox Populi, Philadelphia; Massachusetts College of Art and Design, Boston.

Joy Feasley (b. 1966) studied at Massachusetts College of Art, Cooper Union, and the School of the Museum of Fine Arts in Boston. Her work has been shown widely in Philadelphia, including solo exhibitions at Locks Gallery, Fleisher Art Memorial, and Vox Populi. She has also shown in group exhibitions in Raleigh, North Carolina; Tokyo, Japan; Waltham, Massachusetts; and Brooklyn, New York. Feasley will have a solo exhibition at Locks Gallery, Philadelphia in Fall 2013.
installation view:
Moons of a Dewdrop
installation view:
Moons of a Dewdrop
installation view:
Moons of a Dewdrop
Joy Feasley
Above Fog Window
, 2013
flashe on panel
23 1/2 x 30 inches
JF08
Paul Swenbeck
The Lichen Feeders,
2013
glazed earthenware
3 1/4 x 10 1/4 in diameter
PSW239
Joy Feasley and Paul Swenbeck
In the Woods,
2013
flashe on panel
30 x 23 1/2 inches
WWH02
Paul Swenbeck
Non-Helical Hydrostatic Skeleton Structure
, 2013
glazed earthenware
17 x 10 1/2 x 6 1/4 inches
PSW238
Paul Swenbeck
Portal Beholders II
, 2013
glazed terracotta
14 x 10 1/2 x 8 inches
PSW234
Joy Feasley
Mager Disk,
2013
fused glass, 1/4
11 inches in diameter
JF04
Joy Feasley
Fuller Cloud Nine
, 2013
flashe on panel
18 x 23 1/2 inches
JF09
Joy Feasley and Paul Swenbeck
Moons in a Dewdrop
, 2013
flashe on panel
23 1/2 x 30 inches
WWH01
Paul Swenbeck
Sonar Siren,
2013
glazed earthenware
11 x 17 1/2 x 11 1/2 inches
PSW231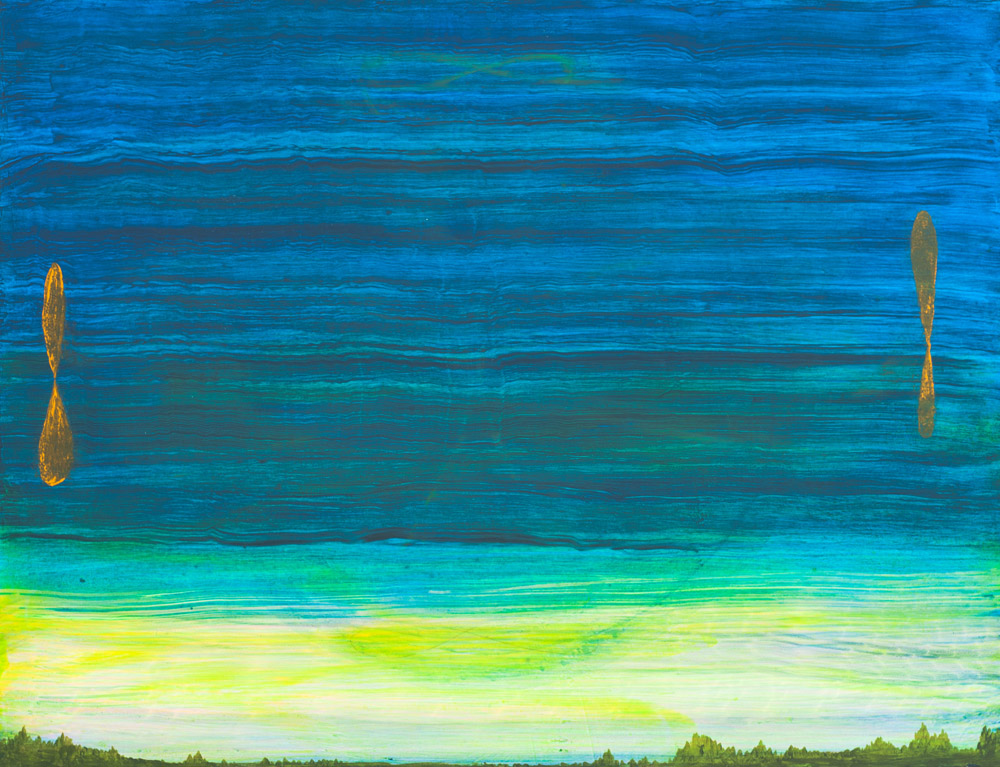 Joy Feasley
The Infinite
, 2013
flashe, oil on panel
18 x 23 1/2 inches
JF02
Joy Feasley and Paul Swenbeck
Nepal,
2013
flashe on panel
18 x 23 1/2 inches
WWH06
Paul Swenbeck
Portal Beholders III
, 2013
glazed terracotta
10 x 19 x 10 1/2 inches
PSW235
Joy Feasley and Paul Swenbeck
Cloud Buster
, 2013
terracotta, resin, wire, magnets and paint
14 x 10 1/2 x 11 inches
WWH08]