Vaginal Davis: An Invitation to the Dance
September 13–October 20, 2018

Adams and Ollman is pleased to announce An Invitation to the Dance, Vaginal Davis' first solo exhibition in Portland, Oregon, on view at the gallery from September 13 through October 20, 2018. Davis' exuberant work incorporates a variety of mediums including performance, music, paintings, sculpture, and film, all imbued with the artist's uncompromising politics, resourcefulness, and humor. Included in the show will be an early video work and new makeup paintings along with a wall mural, marking the artist's first time working in this format. On September 12, Ms. Davis will perform "Sassafras, Cypress & Indigo—Black Screen Images and the (e)motive Notion of Freakiness," a dramatic lecture co-presented by the Pacific Northwest College of Art and Portland Institute of Contemporary Art as part of the 2018 Time-Based Art Festival.

Central to An Invitation to the Dance will be Davis' 1995 film Voodoo Williamson, The Dona of Dance, a no-budget production filmed in her Los Angeles apartment and starring her friends and fellow artists. In this film, Davis plays the director of a modern dance troupe comprised of recovering addicts and runaways. With a firm but nurturing manner, she shelters and encourages them to pursue "the dance," punctuating her lectures with a series of fabricated words and loaded phrases such as "uncooperative reproduction," "thrillisity," "fornicationasity," and "purpisity" that become the mantras of the struggling dance company.

With the title of the exhibition, Davis, a scholar and archivist of early and obscure cinema and Hollywood history, nods to her Los Angeles roots and pays homage to Gene Kelly's mid-century film of the same title, a box office failure whose story is told entirely through dance and mime. Hard times are tempered with play; throughout Davis' short film, the dialogue revolves around struggle, poverty, and hardship. These are transcended, however, by a belief in the possibility of redemption, in this case through dance. A selection of the artist's intimately scaled paintings depicting dancers throughout history will be on view alongside the film. Davis conjures these portraits with a concoction of "cosmetics, beauty products, domestic household goods, witchcraft potions, elixirs and compounds." Layers of expressive marks cover various found substrates—magazine pages, exhibition invitations, hotel stationery—as Davis deploys a painterly language of turbulent strokes, gestural lines, and smudgy wisps to form complex portraits of neglected historic figures always with an eye on feminist and queer traces.

Davis' work has been included in exhibitions at the New Museum (2017), 80WSE (2016), Cooper Union (2015), Participant Inc. (2012, 2010), all in New York; National Museum of Contemporary Art Bucharest, Romania (2009); Museum of Modern and Contemporary Art Rijeka, Croatia (2009); Yerba Buena Center for the Arts, San Francisco, CA (2008); and Kunsthaus Bregenz, Austria (2006), among many others. She has performed at the New Museum, New York, NY (2017); documenta 14, Kassel, Germany (2017); Lafayette Anticipations, Archives nationales, Paris (2017); Arsenal Institut für Film und Videokunst, Berlin (2017); GenderFest Athens, Greece (2017); Creative Time Summit, Washington, D.C. (2016); Kunstverein Hannover, Germany (2016); Agnes Etherington Art Centre, Kingston, Ontario (2015); Centre for Contemporary Arts Glasgow, Scotland (2015); New York University, NY (2014); School of the Art Institute of Chicago, Illinois (2013); Participant Inc., New York, NY (2012); Southbank Centre, London, UK (2012); The Getty Center as part of Pacific Standard Time, Los Angeles, CA (2012); Museum of Contemporary Art, Los Angeles (2011); and Tate Modern, London (2011), among others. Davis has been a visiting professor at Lund University-Malmö Art Academy, Sweden; Justus Liebig Universität Gießen, Germany; Goethe Universität Frankfurt; Harvard University; and New York University. Her prolific artistic production also extends to her participation in a number of bands including The Afro Sisters; Black Fag; ¡Cholita! The Female Menudo; and Pedro, Muriel, & Esther; as well as solo projects. Her zine publications include Dowager, Crude, Fertile La Toyah Jackson, Shrimp, Yes, Ms. Davis, and Sucker. In 2009, she was awarded the Ethyl Eickelberg Art Prize. Davis has hosted and curated the performative film event Rising Stars, Falling Stars at the Arsenal Institut für Film und Videokunst in Berlin for eight years.

installation view,
An Invitation to the Dance
installation view,
An Invitation to the Dance
installation view,
An Invitation to the Dance
installation view,
An Invitation to the Dance
installation view,
An Invitation to the Dance
installation view,
An Invitation to the Dance
installation view,
An Invitation to the Dance
installation view,
An Invitation to the Dance
installation view,
An Invitation to the Dance
installation view,
An Invitation to the Dance
installation view,
An Invitation to the Dance
Vaginal Davis
VooDoo Williamson - The Dona of Dance
, 1995
video, edition of 3
17 minutes, 42 seconds
Written and Directed by Vaginal Davis. Edited by Lawrence Elbert
VD_1995_10
Vaginal Davis
Marge and Gower Champion
, 2018
etched mirror, edition of 20
15 1/4 x 11 inches
VD2018_33
Vaginal Davis
Maya Deren Ritual in Transfigural Time
, 2018
glycerin, hydrogen peroxide, coconut oil, perfume,
water color pencil, eye shadow, rouge, foundation,
nail enamel, lacquer, polish, Datura, Hamamelis
Wasser, Mandrake, Henbane, hairspray and Iberogast on found paper
11 3/4 x 8 3/8 inches
VD_2018_20
Vaginal Davis
Jane Avril
, 2018
glycerin, hydrogen peroxide, coconut oil, perfume,
water color pencil, eye shadow, rouge, foundation,
nail enamel, lacquer, polish, Datura, Hamamelis
Wasser, Mandrake, Henbane, hairspray and Iberogast on found paper
9 x 6 inches
VD_2018_21
Vaginal Davis
Two Mary Wigmans
, 2018
glycerin, hydrogen peroxide, coconut oil, perfume,
water color pencil, eye shadow, rouge, foundation,
nail enamel, lacquer, polish, Datura, Hamamelis
Wasser, Mandrake, Henbane, hairspray and Iberogast on found paper
5 3/4 x 4 inches
VD_2018_22
Vaginal Davis
Misty Copeland
, 2018
glycerin, hydrogen peroxide, coconut oil, perfume,
water color pencil, eye shadow, rouge, foundation,
nail enamel, lacquer, polish, Datura, Hamamelis
Wasser, Mandrake, Henbane, hairspray and Iberogast on found paper
11 x 8 inches
VD_2018_23
Vaginal Davis
Raven Wilkinson
, 2018
glycerin, hydrogen peroxide, coconut oil, perfume,
water color pencil, eye shadow, rouge, foundation,
nail enamel, lacquer, polish, Datura, Hamamelis
Wasser, Mandrake, Henbane, hairspray and Iberogast on found paper
8 1/4 x 6 3/8 inches
VD_2018_24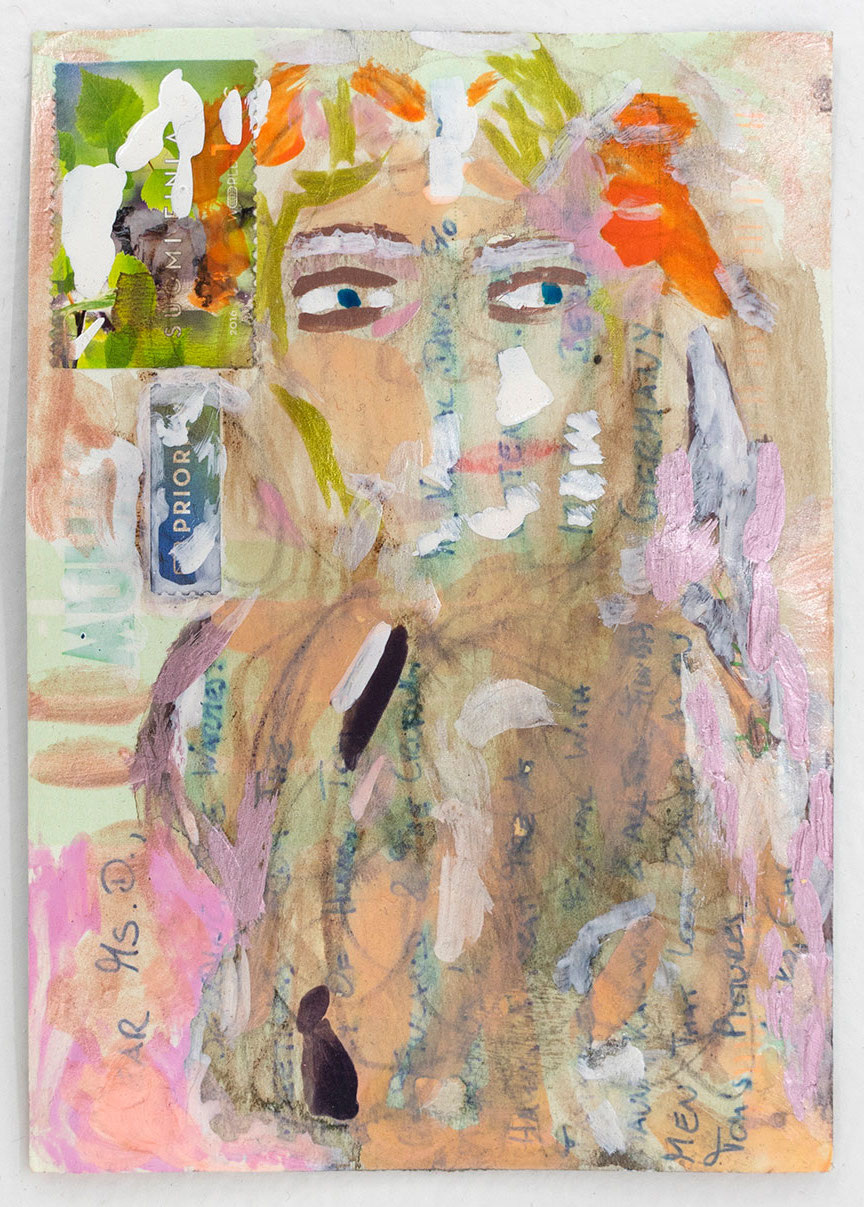 Vaginal Davis
East German Expressionist Dancer Gret Palucca
, 2018
glycerin, hydrogen peroxide, coconut oil, perfume,
water color pencil, eye shadow, rouge, foundation,
nail enamel, lacquer, polish, Datura, Hamamelis
Wasser, Mandrake, Henbane, hairspray and Iberogast on found paper
5 3/4 x 4 inches
VD_2018_25
Vaginal Davis
Moira Shearer
, 2018
glycerin, hydrogen peroxide, coconut oil, perfume,
water color pencil, eye shadow, rouge, foundation,
nail enamel, lacquer, polish, Datura, Hamamelis
Wasser, Mandrake, Henbane, hairspray and Iberogast on found paper
8 3/4 x 6 1/2 inches
VD_2018_26
Vaginal Davis
Ann Reinking
, 2018
glycerin, hydrogen peroxide, coconut oil, perfume,
water color pencil, eye shadow, rouge, foundation,
nail enamel, lacquer, polish, Datura, Hamamelis
Wasser, Mandrake, Henbane, hairspray and Iberogast on found paper
8 3/4 x 6 1/2 inches
VD_2018_27
Vaginal Davis
Martha Graham in Serenata Morisca
, 2018
glycerin, hydrogen peroxide, coconut oil, perfume,
water color pencil, eye shadow, rouge, foundation,
nail enamel, lacquer, polish, Datura, Hamamelis
Wasser, Mandrake, Henbane, hairspray and Iberogast on found paper
5 3/4 x 4 inches
VD_2018_29
Vaginal Davis
Katherine Dunham
, 2018
glycerin, hydrogen peroxide, coconut oil, perfume,
water color pencil, eye shadow, rouge, foundation,
nail enamel, lacquer, polish, Datura, Hamamelis
Wasser, Mandrake, Henbane, hairspray and Iberogast on found paper
11 x 8 inches
VD_2018_30
Vaginal Davis
Judith Jamison
, 2018
glycerin, hydrogen peroxide, coconut oil, perfume,
water color pencil, eye shadow, rouge, foundation,
nail enamel, lacquer, polish, Datura, Hamamelis
Wasser, Mandrake, Henbane, hairspray and Iberogast on found paper
12 3/4 x 8 7/8 inches
VD_2018_31