Vince Skelly and Lynne Woods Turner
December 10, 2022—January 14, 2023
Opening: Saturday, December 10 from 1—4pm
PRESS
Artnet
Here Are 6 of the Most Daring Design Shows to See This Month (Think Chainsawed Furniture, Hamburger Vases, and Giant Crystals)
Adrian Madlener
January 11, 2023
Adams and Ollman's final exhibition of 2022 brings together new sculptural works by Vince Skelly (b. 1987, Claremont, CA; lives and works in Claremont, CA) with recent two-dimensional works by Lynne Woods Turner (b. 1951, Dallas, TX; lives and works in Portland, OR ). The exhibition, on view from December 10, 2022, through January 14, 2023, explores form through juxtapositions of scale, material, dimension and the playful interplay of positive and negative space.
Vince Skelly uses a chainsaw and traditional hand tools to reductively carve sculptural design pieces from large blocks of wood from a variety of trees from the West Coast of the United States. Following grain patterns, knots, and other characteristics inherent to each block of wood, he teases out simplified and essential forms that emerge in consort with the uniqueness and singularity of each block, each bearing its own spirit, rhythm, and personality. Skelly combines elements of ancient structures with those of modern design and architecture, turning edges, intersections, shapes, holes, and patterns into narrative devices that interpret human activity throughout time and space, making possible novel readings and at times illuminating and surprising connections.
For example, in
Paulownia Coffee Table
, an ovoid form intersects with the plane of a table calling to mind a prosthetic or a home built into the side of a mountain—perhaps a nod to Isamu Noguchi or ancient cliff dwellings seen in various forms across the globe. At other times, Skelly's works probe our relationship to our built and natural environments through juxtapositions of positive and negative space, scale, and formal resemblance. The portal-like
Redwood Arch
swaps the proposition of the body present in his other sculptures as something that acts upon, or encompasses, to being the acted-upon, the encompassed. The opening of the archway is impossible to consider without imagining what might come or go through it—especially a human, given its size and shape. Skelly invites us to consider ways in which design is not simply based on a set of abstract criteria, but is fundamentally a dialogue between humans and their natural and built environments.
Lynne Woods Turner's intimate paintings and drawings triangulate the unseen through careful, meditative linework and subtle coloration. Formally, her lines and shapes bring to mind cellular forms, figuration, language, and mathematical diagrams, and recall the structured contemplation of the work of predecessors Agnes Martin and Nasreen Mohamedi, or the perceptual tinkering of Carmen Herrera. Spiritually, however, Turner's work resides in the nitty gritty of mystery, seeking to give shape to the hidden rhythms and arcana of the natural world, like intuitive schematics for the unknowable. Like Skelly, she is interested in the role of entropy in reproduction, reveling in slight morphic changes or circumstantial interruptions in the surface like a hole or fold that guide her marks to convey their meanings. Even negative space, for Turner, is never empty but alive and rich with potential, often forefronting itself as the primary occupied space, or confusing the distinction between positive and negative entirely. This slippage functions at times like an optical illusion, creating a tension between what is seen and what is actually there, encouraging the viewer into perspectival fluidity.
Sometimes, works contain relationships to one another that further elucidate their constituent parts, or introduce other complexities. For instance,
Untitled #1608
and
Untitled #1609
each contain similar iterative patterns that resemble a fish or drops of water, but could be further linked to one another through their similar linework, perhaps temporally.
Untitled #9825
could be
Untitled #9378
in a state of entropic disorder, or its fertile potential before its content was given delineation. Turner's work bears witness to the mystery of transformation—to the unfathomable but deeply felt oscillations between energy concentrations and their physical manifestations, the movement of time and its effect on the physical world, and the mysterious balance that conserves and perpetuates the cycles of life.
Vince Skelly holds a BS from San Francisco State University, CA. His work has recently been exhibited at Schneider Museum of Art, Ashland, OR; the Bellevue Arts Museum, Bellevue, WA; and the Jordan Schnitzer Museum of Art WSU, Pullman, WA.
Lynne Woods Turner holds a BFA from Stephens College, Columbia, MO and MFA from the University of Iowa, Iowa City, IA. Turner's work is included in the permanent collections of many public and private institutions including the Museum of Modern Art, New York, NY; the Fogg Art Museum, Harvard University, Cambridge, MA; Yale University Art Gallery, New Haven, CT; Hood Museum of Art, Dartmouth College, Hanover, NH; the Hammer Museum, UCLA, Los Angeles, CA; and the National Gallery of Art, Washington, DC.
Works
Lynne Woods Turner
Untitled #9154
, 2014
oil on linen over panel
16h x 13w in
40.64h x 33.02w cm
LWT_9154
Lynne Woods Turner
Untitled #9231
, 2016
oil on linen over panel
12h x 9w in
30.48h x 22.86w cm
LWT_9231
Lynne Woods Turner
Untitled #9113
, 2012
oil on linen over panel
16h x 12w in
40.64h x 30.48w cm
LWT_9113
Lynne Woods Turner
Untitled #9283
, 2017
oil on cheesecloth over panel
12h x 12w in
30.48h x 30.48w cm
LWT_9283
Lynne Woods Turner
Untitled #9285
, 2017
oil on carved wood panel
12h x 12w in
30.48h x 30.48w cm
LWT_9285
Lynne Woods Turner
Untitled #9310
, 2018
oil and pencil on cheese
cloth over panel
10h x 8w in
25.40h x 20.32w cm
LWT_9310
Lynne Woods Turner
Untitled #9378
, 2019
oil on linen over panel
12h x 9w in
30.48h x 22.86w cm
LWT_9378
Lynne Woods Turner
Untitled #9403
, 2020
oil and pencil on linen over panel
16h x 12w in
40.64h x 30.48w cm
LWT_9403
Lynne Woods Turner
Untitled #9405
, 2020
oil and pencil on linen over panel
16h x 16w in
40.64h x 40.64w cm
LWT_9405
Lynne Woods Turner
Untitled #9419
, 2021
oil on linen over panel
12h x 12w in
30.48h x 30.48w cm
LWT_9419
Lynne Woods Turner
Untitled #9449,
2022
oil, pencil and silverpoint on linen over panel
12h x 12w in
30.48h x 30.48w cm
LWT_9449
Lynne Woods Turner
Untitled #9465
, 2022
oil and pencil on linen over panel
10h x 8w in
25.40h x 20.32w cm
LWT_9465
Lynne Woods Turner
Untitled #1047
, 2013
pencil and colored pencil on Japanese paper
10h x 8w in
25.40h x 20.32w cm
LWT_1047
Lynne Woods Turner
Untitled #1608
, 2022
pencil on paper
5h x 14w in
12.70h x 35.56w cm
LWT_1608
Lynne Woods Turner
Untitled #1609
, 2022
pencil and colored pencil on paper
6 3/8h x 17w in
16.19h x 43.18w cm
LWT_1609
Lynne Woods Turner
Untitled #1610
, 2022
pencil on paper
6 1/2h x 17w in
16.51h x 43.18w cm
LWT_1610
Vince Skelly
Bay Stool
, 2022
bay
22h x 17w in
55.88h x 43.18w cm
VS_2022_05
Vince Skelly
Paulownia Coffee Table
, 2022
paulownia
21h x 32w x 28d in
53.34h x 81.28w x 71.12d cm
VS_2022_06
Vince Skelly
Ash Chair
, 2022
ash
31h x 14w x 22d in
78.74h x 35.56w x 55.88d cm
VS_2022_07
Vince Skelly
Oak Side Table
, 2022
oak
18h x 22w x 25d in
45.72h x 55.88w x 63.50d cm
VS_2022_08
Vince Skelly
Maple Low Chair
, 2022
maple
21h x 17w x 18d in
53.34h x 43.18w x 45.72d cm
VS_2022_09
Vince Skelly
Maple Coffee Table
, 2022
maple
18h x 17w x 31d in
45.72h x 43.18w x 78.74d cm
VS_2022_10
Vince Skelly
Redwood Arch
, 2022
redwood
58h x 42w x 17d in
147.32h x 106.68w x 43.18d cm
VS_2022_11
Vince Skelly
Oak Chair
, 2022
white oak
37h x 16w x 18d in
93.98h x 40.64w x 45.72d cm
VS_2022_03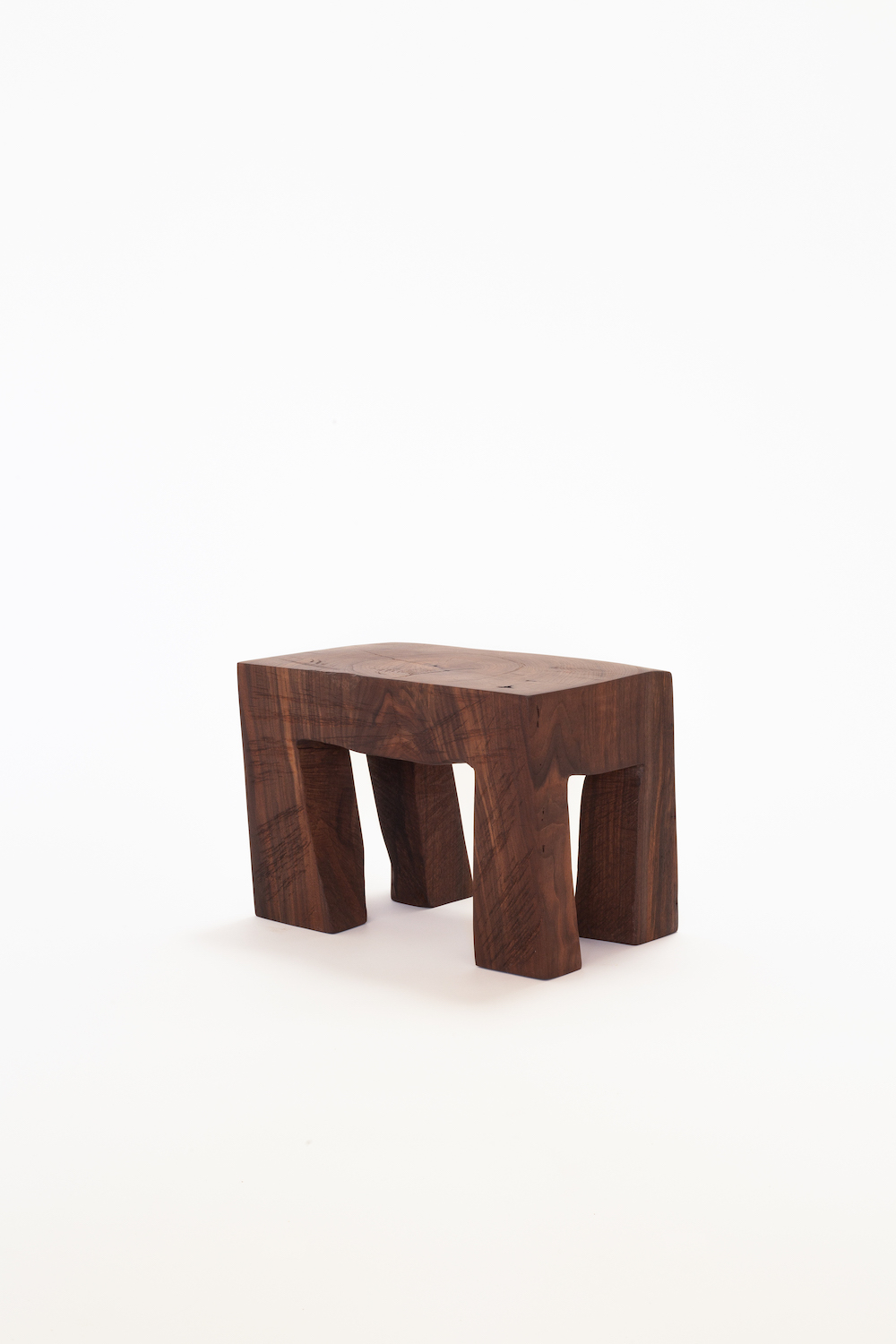 Vince Skelly
Walnut Stool
, 2022
walnut
13h x 10w x 16d in
33.02h x 25.40w x 40.64d cm
VS_2022_04
Installation